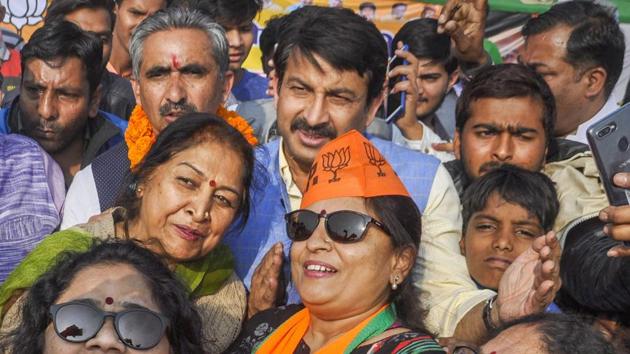 BJP's Manoj Tiwari slams Rahul Gandhi on Rafale criticism
BJP lawmaker Manoj Tiwari was in Uttarakhand capital Dehradun on Wednesday to campaign for the upcoming urban local body elections in the state.
UPDATED ON NOV 15, 2018 02:56 PM IST
Bharatiya Janata Party's (BJP) Delhi unit chief and Member of Parliament Manoj Tiwari Wednesday slammed Congress president Rahul Gandhi for his "continuous criticism" of the controversial Rafale jet deal. Tiwari was in Uttarakhand capital Dehradun to campaign for the upcoming urban local body elections.
He said Rahul's continuous criticism on Rafale has been answered by the Dassault CEO. "The Dasault Aviation CEO's statement is a slap on the face of Rahul Gandhi," he claimed, while addressing media persons after reaching Dehradun.
At a press conference on November 2, Gandhi said that Trappier had lied about the Rafale deal to protect the Modi government. He had alleged that Dassault invested Rs 284 crore in a loss-making company promoted by Anil Ambani which was used to procure land in Nagpur. "It is clear the Dassault CEO is lying. If an inquiry starts on this, Modi is not going to survive it. Guaranteed," he said.
Two days ago, Gandhi had said that Modi has "admitted to theft" int he deal, and also dismissed Trappier's statement, calling it a "manufactured lie".
Trappier, when asked to respond to Gandhi's charge that Dassault was covering up for possible cronyism in awarding the offset deal to Anil Ambani-led Reliance Group, had told news agency ANI during an interview: "I don't lie. The truth I declared before and the statements I made are true. I don't have a reputation of lying. In my position as CEO, you don't lie."
Talking about the ULB Polls, Tiwari said the BJP won the assembly election last year with a huge margin and is going to repeat its victory in this election as well.
"For the party, ULB election is equally important. We have absolute trust in the people of Uttarakhand that the way they supported the party in assembly election, they are going to vote for us in this election as well," he said.
He praised chief minister Trivendra Singh Rawat, stating that the government has "a clean image" and is "working effectively for the people of the state".
Tiwari also took a dig on former chief minister Harish Rawat. "The people of Uttarakhand had given Harish Rawat a chance, but he failed them. The Congress culture is culture of theft and that's why the people chose us," he alleged.
He attended public gatherings in Dehradun Cantt, Rishikesh and Doiwala areas. He interacted with party workers and appealed the people to vote for the party.
"It's shallow politics if a leader tries to take dig on a woman (Sonia Gandhi) on the kind of kids she will have. Also, who is Manoj Tiwari to talk about Rafale? Everything will be cleared in the Supreme Court," senior Congress leader Suryakant Dhasmana said.
Close