Congress, BJP MLAs fight during public hearing on Pancheshwar project
Updated on Aug 11, 2017 08:01 PM IST
Congress MLA from Dharchula Harish Dhami and BJP's Didihat MLA Bishen Singh Chufal on Friday entered into a fight during a public hearing on the Pancheshwar dam in Pithoragarh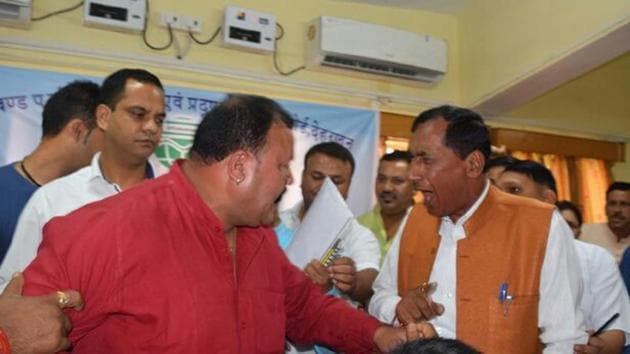 Hindustan Times |
, Haldwani
Abhinav Madhwal
Congress MLA from Dharchula Harish Dhami and BJP's Didihat MLA Bishen Singh Chufal on Friday entered into a fight during a public hearing on the Pancheshwar dam in Pithoragarh.
Both of them pushed each other leading to tension among their supporters.
Later, Dhami sat on a fast unto death demanding that the public hearing should be held at the Nyay Panchayat level and not at the blcok level so that the people's grievances can be gauged in a genuine manner.
He said he would break the fast only when the administration assures him of accepting his demand.
Uttarakhand Kranti Dal patron Kashi Singh Aeri was also allegedly pushed out of the hall by the BJP supporters.
During the public hearing on the Pancheshwar hydro power project at the Vikas Bhavan, Djhami was speaking about grievances of the people from the areas that would come in the submergence zone. He was questioned by a BJP activist which led to a heated altercation.
Dhami then had a fight with BJP MLA Chufal and both of them pushed each other. Dhami alleged that the BJP members have turned the public hearing into a party forum.
Personalise your news feed. Follow trending topics