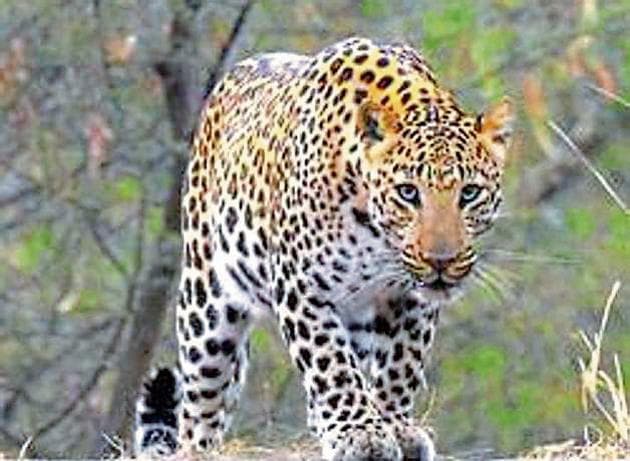 Five leopard skin seized in Champawat, 2 held
The Champawat police have arrested two wildlife smugglers from Banbasa and recovered five leopard skin from their possession, the police said on Monday
PUBLISHED ON JUN 11, 2018 10:05 PM IST
The Champawat police have arrested two wildlife smugglers from Banbasa and recovered five leopard skin from their possession, the police said on Monday.
One smuggler managed to escape, said Dhirendra Gunjyal, the superintendent of police (SP) of Champawat.
The arrested persons have been identified as Kamal Singh, resident of Katiyani village in Pithoragarh district and Pushkar Singh, resident of Aambag village in Tanakpur of Champawat district. Rajesh, resident of Nai Basti in Tanakpur, managed to run away, Gunjyal said.
The main accused, Kamal, is said to be a constable in the Indo-Tibetan Border Police (ITBP), but the police are yet to ascertain the fact. He allegedly killed the leopards by poisoning them in the forest near Katiyani village.
Gunjyal said that the police had a tip-off that two persons, carrying leopard skin in an Alto car, were moving from Pithoragarh to hand over the contraband to a person in Banbasa. On the basis of the information, police and special operations group (SOG) jointly laid a trap to arrest the smugglers in Banbasa on Sunday. After spotting the car, they signalled it to stop for a search.
During the search, five leopard skin were recovered from the car, Gunjyal said. The police arrested two occupants of the car. But Rajesh, whom the arrested persons were supposed to deliver the contraband in Banbasa, managed to flee, Gunjyal said, adding that the police are on lookout for him.
The skin are of four adult leopards and one of a cub.
Katiyani village and forests falling along the Indo-Nepal border in Pithoragarh district are considered highly sensitive for poaching from both, Indian and Nepalese, poachers.
Earlier, on Friday, two men were arrested with leopard skin and bones from Nainisaini Road in Pithoragarh district. They too had killed leopard from in the forest near Katiyani village.
Earlier, a tiger skin and 8.3 kg bones were recovered from two smugglers in Banbasa on January 31. The smugglers belonged to Lakimpur Khiri district of Uttar Pradesh. They were bringing the skin and bones from Nepal side for delivery at Khatima in Udham Singh Nagar.
Close