In swayamwar for goats, a message on migration from Uttarakhand hills
nto its second edition this year, the 'Bakri Swayamwar' in Pantwari was organised by Green People, a volunteer driven organisation that works on checking migration from the hills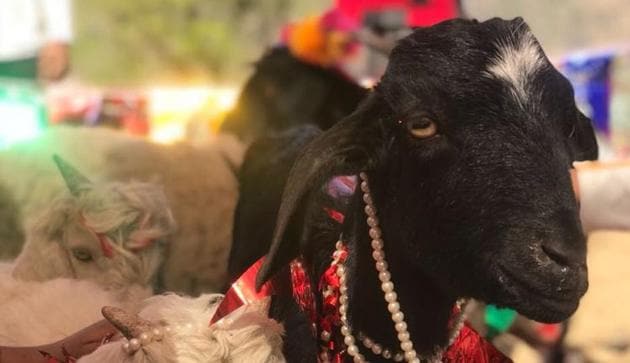 Updated on Mar 11, 2018 10:03 PM IST
Two goats - Alia and Shradha - along with a sheep, Kangana, had a swayamwar on Sunday in the remote village of Pantwari in Uttarakhand's Tehri Garhwal district. As many as 15 prospective grooms (10 goats and 5 sheep) had turned up to test their luck.
The 'brides' were kept with five prospective grooms each in an enclosure. Based on the reaction of the 'brides', a jury of three human beings selected the winners. This was followed by marital rituals, including the pheras (circumbulation) of the sacred fire according to local customs. The 'couples' were then declared "married".
No, this was not a scene from George Orwell's iconic book 'Animal Farm' that personified animals by juxtaposing their world with that of humans. This was as real as it comes.
Into its second edition this year, the 'Bakri Swayamwar' in Pantwari was organised by Green People, a volunteer driven organisation that works on checking migration from the hills.
"The 'swayamwar' was organised to entertain people but the main purpose of the event was to educate them about the importance of improving gene pool of the mountain goats in Uttarakhand and adopt proper breeding practices," said Mani Mahesh, communication head of Green People.
He said this time the event also hosted an exhibition of nearly 500 local goats and sheep. "There was also a team of 25 trained goat rearing experts at the venue to educate people about scientific methods of goat rearing. Around 750 goat rearers attended the event," he said.
"At present, people are rearing goats for meat, which provides a one-time earning opportunity. But we are encouraging them to also rear goats for milk, which is a far more profitable business," he said.
Apart from this, the organisation is also working on promoting traditional foodgrains and homestay to cash in on from tourism opportunities in the state.
"Inbreeding among local goats is a big problem in the hills which, over the years, results in poor lactation and body weight in the animals. Besides, people are still unaware about scientific breeding and what value additions can be made to reap better profits by rearing goats," said an official of the animal husbandry department, requesting anonymity.
Close Story