Maoist zonal committee member and woman aide arrested in U'khand
Updated on Sep 24, 2017 08:09 PM IST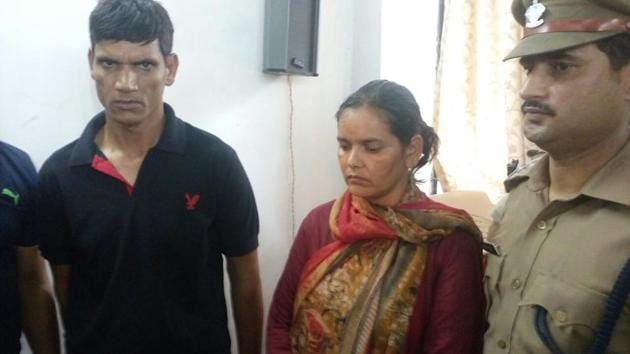 Hindustan Times |
Abhinav Madhwal
HALDWANI (NAINITAL): Acting on a tip off by Special Operations Task Force (SOTF), a joint team of Almora and Nainital police arrested a wanted Maoist zonal committee member, Devendra Chamyal and his woman accomplice Bhagwati Bhoj, police said on Sunday.
Chamyal had set up the eastern regional group of Maoists and was on the run for the last 10 years. Carrying a reward of Rs 50,000, the alleged Maoist was wanted in a case lodged at the Nanakmatta police station under various sections of the Indian Penal Code.
Irfan, the SOTF personnel who gave the tip off, will be recommended for police medal, said deputy inspector general of police Kumaon Range, Puran Singh Rawat on Sunday. Chamiyal and Bhagwati were arrested from Chorgaliya in Nainitaldistrict on Saturday.
The DIG said that Chamyal, who was a resident of Petshal, Almora had taken part in the Maoist training camp in 2004. He went away to Jharkhand in 2009 and took part in Maoist activities there and also acted as a courier. "He came back to Uttarakhand in 2013 and started putting up posters against the government asking people to boycott polls and stand up against the system," said the DIG.
Janmejay Khanduri , senior superintendent of police (SSP) said that all the wall paintings depicting Maoist ideology were made by him. Chamyal has admitted that he and Bhagwati Bhoj were behind all the posters that had cropped up in Kumaon region's Dhari, Someshwar, Almora, Dwarahat, Chauda and Bagwalipokhar.
"The main aim of Chamyal and Bhagwati was to foment unrest among the local people in Champawat against the proposed Pancheshwar Hydro Power project and they had already started the opposition through various groups," said the SSP.
A Maoist camp was busted in 2004 in Saufutiya in Hanspur Khatta forest in US Nagar district. This was the time when Maoist activities were at peak in neighbouring Nepal. Around five activists were arrested from different parts of Kumaon for their involvement. In 2007, a Maoist leader Prashant Rahi was arrested from Nanakmatta. The BJP government has been strict on the Maoist menace and the arrest will also have political repercussions in the state where the Maoist presence is almost nil, but the spectre of their regrouping pops up every now and then.
How Devendra Chamyal and Bhagwati Bhoj were arrested
Janmejay Khanduri, senior superintendent of police said that Nainital police received specific tip off from Special Operations Task Force (SOTF) Almora saying that a Maoist would be travelling on the route to Chorgaliya towards Sitarganj. The police searched a bus and police station officer of Chorgaliya found Chamyal in it.
Chamyal denied knowing Bhagwati Bhoj who was travelling with him and labelled her as just a co-passenger. The SSP said that Devendra Chanmyal introduced himself by some other name, but the police spotted a tattoo inscribed 'D' on his hand. He then admitted that the D was for Devendra. "Bhagwati Bhoj, who is unmarried, was sporting sindoor on her head to fool the authorities," said the SSP.