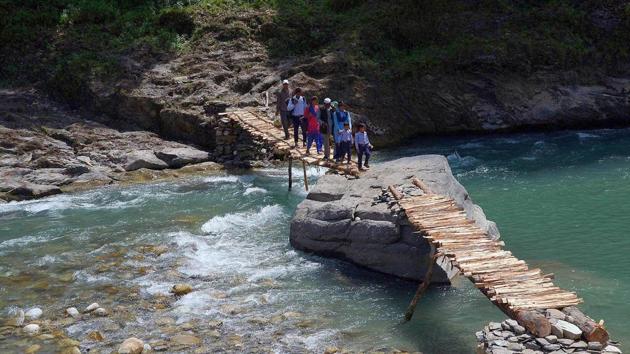 Nepal gives nod for two wooden bridges on Kali river
Nepal has given permission to construct two temporary wooden bridges on Kali river near Mangti, the last motorable point of India, official said on Monday
Hindustan Times | By BD Kasniyal
PUBLISHED ON APR 02, 2018 10:19 PM IST
Nepal has given permission to construct two temporary wooden bridges on Kali river near Mangti, the last motorable point of India, official said on Monday. This comes after discussion between the officials of India and Nepal in recent days.
The bridge connectivity was necessitated after a huge landslide blocked Vyans Valley, creating problems for the migratory people, who come down from high-altitude areas of the Himalayas during winters.
With the recent development, tribal villagers of Vyans Valley in Dharchula subdivision have started preparation for returning to their respective high-altitude villages.
"The construction of two wooden bridges by Border Roads Organisation will start from Tuesday. We plan to complete the work by April 10 to facilitate entry of the Indian traders into Nepalese territory," said RK Pandey, the subdivisional magistrate of Dharchula. A letter was received in this regard on Sunday noon, he added.
According to officials, this year, besides local villagers, Indian traders and Kailas Mansarovar pilgrims will have to travel a total of 4 km inside Nepalese territory to cross over again into Indian territory at Bundi.
According to Pandey, the bridges, with a span of 70 and 40 metre respectively, will be constructed at Lakhanpur (India)-Nazyang (Nepal) and Ghgatiabagar.
Meanwhile, the locals expressed gratitude to Nepal. "The people of Vyans Valley are happy and thankful to Gyalbu Bora, a Nepalese public representative from Darchula (Nepal) by whose efforts the permission from Kathmandu was granted," said Tej singh Gunjiyal, a trader in Dharchula and resident of Gunji village in Vyans Valley.
More than 2,400 villagers from eight villages of Vyans Valley are preparing to return with their mules and other animals to their high altitude villages, where they will stay for next six months to produce potato and palthi, a local crop.
Their return had become uncertain after a heavy landslide hit the track between Lakhanpur and Nazang in February this year. "The pace at which the machines are working on the 75-km-long under-construction motor road from Mangti to Lipulekh, it had become impossible to remove the debris before the time of returning of villagers or even the time at which the Kailas Mansarowar Yatra begins," said the Dharchula SDM.
The villagers of Vyans Valley had only yesterday (Sunday) threatened to launch an agitation if the bridges were not constructed before the time they tend to return from winter migration.
Close