Rawat tightens noose on use of polythene, plastic bags in state
In Dehradun, 69 kg polythene was seized on Wednesday. Eight teams raided 453 shops on the first day and 160 of them were found to have polythene bags.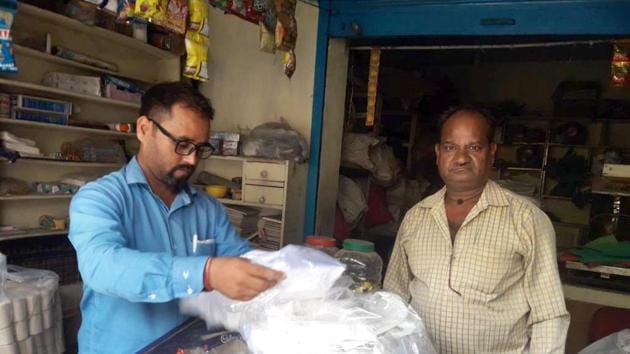 Updated on Aug 02, 2018 10:07 PM IST
The crackdown on polythene and plastic materials continued in Uttarakhand on the third day.
Chief minister TS Rawat had announced enforcement of ban on carry bags made of plastic and its derivatives as well as plastic and thermocol cutlery items from August 1. Administrations of urban and rural municipal bodies were directed to ensure the enforcement.
Dehradun
In the state capital, 69 kg polythene was seized on Wednesday. Eight teams raided 453 shops on the first day and 160 of them were found to have polythene bags.
The drive continued on Thursday. Dehradun Municipal Corporation officials warned the shopkeepers that if polythene carry bags or plastic cutlery items would be found in their shops second time, then their licences would be seized.
Haridwar
Anti-polythene drive was on at Kankhal, suburban Jwalapur, Chandracharya square and Kanwar fair zone in Haridwar. The district administration seized more than five quintal of polythene.
A team, led by district magistrate Deepak Rawat, additional district magistrate Lalit Narayan Mishra and city magistrate Manish Singh, carried out impromptu raids on traders' establishments in Kankhal and Jwalapur. Two traders were fined Rs 5000 and Rs 2000 separately at Kanhal chowk and Pahadi bazar for stocking polythene materials.
Rawat urged local people, pilgrims and tourists to shun use of polythene material, and help the administration keep the hill state clean and green.
In Roorkee, the anti-polythene squad of the municipal corporation has slapped fines of Rs 20,000 on violating traders and vendors in the past two days.
Welcoming the government's decision, city traders' union president Tej Prakash Sahu said, "Traders affiliated to the union have stopped selling consumer goods in polythene bags; they have procured cloth and paper bags for trading purposes."
Rudrapur
People were seen carrying polybags and shopkeepers using them in US Nagar on the second day of ban. Nagar nigam teams issued 22 challans and slapped fines of Rs 14000 in Rudrapur in two days.
Nigam tax inspector BC Rekhari said, "Besides challans and fines, nigam team seized 5 kg polythene in two days. Since nigam staff were busy in anti-encroachment drive on Thursday, checking drive will be intensified on Friday."
Kundan Lal, a fruit seller near Gandhi park, said, "If I don't make available polythene bags to buyers, they go to some other vendor. I am forced to use polythene to sell fruits. Government must take action against factories where it is produced."
Sushil Batra, a hotelier at Rudrapur, said, "Government must enforce the ban strictly for the benefit of the new generation as polythene is polluting environment and sanitation system of the city."
In Kashipur Nagar Nigam, market was closed due to weekly holiday on Wednesday. Nigam officials launched a drive against polythene on Thursday.
Haldwani
City magistrate Pankaj Upadhyay and city health officer Rahul Laspal conducted a drive in the Mangal padao area of Haldwani on Wednesday and raided establishments of 8 businessmen.
They seized polythene and thermocol materials, and levied penalty of Rs 24,000. Shopkeepers said they would not stock polythene and prohibited products. Traders had been given time till Thursday to deposit polythene and other materials in the municipal corporation
Pithoragarh
Pithoragarh sanitary inspector Sunil Kumar penalised three shopkeepers on Thursday for storing polythene carry bags and recovered Rs 1500 as penalty.
The local municipal board had been conducting the anti-polythene drive for the last one year and had collected penalty of Rs 1.36 lakh.
Close Story