Speeding train kills elephant in Rajaji Tiger Reserve
Hindustan Times, Haridwar |
Sandeep Rawat
Jun 26, 2018 09:38 PM IST
A female elephant was killed after being run over by a speeding train in Rajaji Tiger Reserve on Tuesday, a forest official said
A female elephant was killed after being run over by a speeding train in Rajaji Tiger Reserve on Tuesday, a forest official said.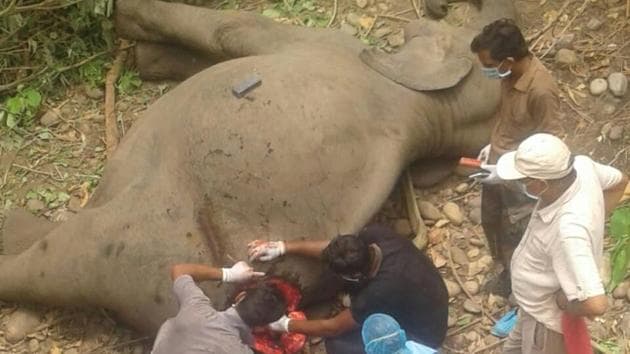 The 35-year-old elephant was part of a group of 17 elephants crossing rail tracks parallel to NH-58 in Himalayan colony at 12:05 am on Tuesday when the high-speed Dehradun-Kathgodam Express was passing by, the official said.
While forest staff tried to alert the train driver, he did not slow down the train, resulting in the death of the elephant.
The death comes despite claims of preventive measures being taken by the Rajaji Tiger Reserve authority and railways.
Park patrolling teams were on duty near the accident site and manually signalled the train driver to stop.
Park employee Roshanlal said they tried to aware the loco pilot by showing torch light as there were more than a dozen elephants in human habitat area, trying to cross the railway track.
Rajaji Tiger Reserve director Sanatan Sonkar said it was a shocking incident for which both the park management and railways has been working jointly to curb such incidents.
"We are investigating this matter and if found guilty, we will file case against the train driver and are also taking steps to lessen such accidents by putting up censors and camera traps," he added.
Another park official, on condition of anonymity, said many times train drivers don't follow the minimum speed limit and take precautions.
"Many a times railways even didn't take action against its drivers found guilty," the official said.
On March 9, an elephant got injured when it was stuck down by a train at this very stretch while on March 20 another female elephant was mowed down by Nanda Devi Express in Kansro park range.
On October 15 at Raiwala an elephant had also died after a train hit it on the railway track.
Since creation of separate Uttarakhand 12 elephants had been killed by trains, with Nanda Devi Express train alone killing 4 elephants.
Divisional Railway Manager AK Singhal told HT: "We have been taking steps and are in coordination with the park authorities to minimise such incidents.
"We are jointly investigating this matter. After the probe, we will take prompt action. It's not about putting ball in each other's court but finding an amicable solution," said Singhal.
He also said on request of Rajai Tiger Reserve and forest authorities, railways had already cut down speed of the train passing through this corridor to 35 km from 55 km.
Rajaji Tiger Reserve authorities earlier this year started working on installing sensors and camera trap between Motichur-Kansro stretch.