Tiger dies of septicaemia and asphyxiation
Hindustan Times |
, Haldwani/dehradun
Abhinav Madhwal & Nihi Sharma
Mar 17, 2017 08:42 PM IST
The tiger that killed two people in Ramnagar near Corbett on Thursday died the same night in captivity due to septicaemia and asphyxiation, wildlife officials said.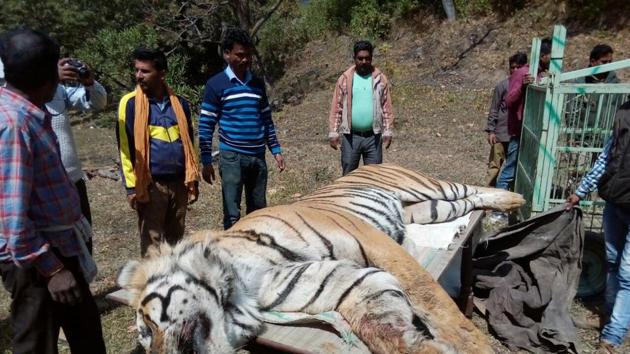 The eight-year-old tiger had suffered injuries during rescue operation and succumbed eventually.
Forest officials with the help of tranquillizers and a JCB machine had managed to cage the tiger at the end of a nearly nine-hour operation. The tiger (nicknamed T-28) had first killed a woman after dragging them deep inside the forest near Corbett National Park on Thursday morning. Her father-in-law met with the same fate when he came to her rescue. It was then cornered and ensnared by forest officials.
But the tiger suffered serious injuries as one of its canine teeth broke down which resulted in bleeding, septicaemia and later choked to death.
"As it leaped on the JCB machine, its canine broke down and started bleeding. It lost too much blood. Meanwhile, some past injuries on its forelimbs had maggots and the animal died due to septicaemia and choking," divisional forest officer, Terai, Kahkashan Naseem told Hindustan Times.
Officers inform due to movement of tigers in the area, T-28 must have had infighting with others due to which its fore limbs were severely injured. The presence of five tigers and one tigress is reported within 5 sq km area in the range.
Conservator, western division (Terai), Parag Madhukar Dhakate said T-28 might have attacked the two victims after being enraged over their presence in mating season of tigers. "The area has high concentration of big cats that resulted in tiger deaths in the past due to mating- and territory-related issues," he added.
Tigers and dense forests in Corbett attract thousands of tourists every year but the area is also seeing a growing man-animal conflict. Both the number of tigers and human population in the neighbouring villages of the reserve has increased over the years. Home to around 200 tigers, Corbett has the highest density of big cats in India. Villagers often enter the reserve for firewood and fodder but fall prey to tigers. In October, a man-eater was killed near Ramnagar after a massive 40-day search.