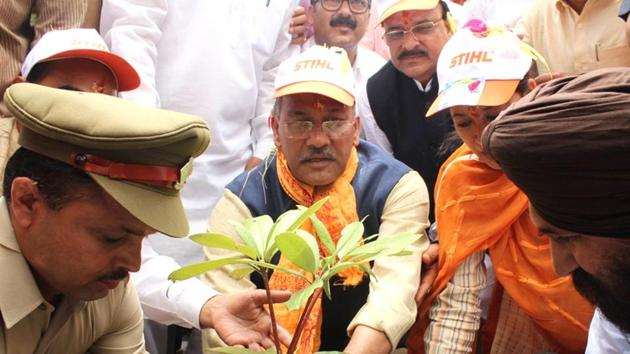 Uttarakhand CM launches plantation drive to revive Kosi river
Chief minister Trivendra Singh Rawat on Monday launched a major plantation drive from Rudradhari in Almora along the Kosi river to mark Harela festival that symbolises greenery and prosperity
PUBLISHED ON JUL 16, 2018 10:00 PM IST
Chief minister Trivendra Singh Rawat on Monday launched a major plantation drive from Rudradhari in Almora along the Kosi river to mark Harela festival that symbolises greenery and prosperity.
He said the campaign aimed at reviving the spring-fed river would be successful with public support.
"This pious programme under which a record 1.67 lakh saplings will be planted is aimed to rejuvenate the river Kosi," Rawat said at the inaugural function of the plantation drive.
"A programme of this dimension will, however, be successful with the public support only," he said while urging people to ensure their maximum participation.
He said the government had initiated a similar programme to revive the Rispana (Rishiparna) river in Dehradun. "As a result, the message of this campaign will automatically spread across the world," Rawat said.
On July 22, a similar plantation drive would be initiated in Dehradun to revive the Rispana. "Under the proposed campaign, a target of planting 2.50 lakh saplings has been set," the chief minister said.
All those involved in the twin tree plantation drives would have to protect the planted saplings for the rejuvenation of the rivers.
"We will have to protect the planted saplings for a period of five years, along with special focus on the cleaning of the rivers," he said.
Close