Uttarakhand first to ban angling, cites cruelty to fish
Jul 18, 2018 10:11 PM IST
Uttarakhand has become the first state in India to ban angling, an activity that involves catching fish using hooks and releasing them back, in rivers and streams in forest areas and tiger reserves
Uttarakhand has become the first state in India to ban angling, an activity that involves catching fish using hooks and releasing them back, in rivers and streams in forest areas and tiger reserves.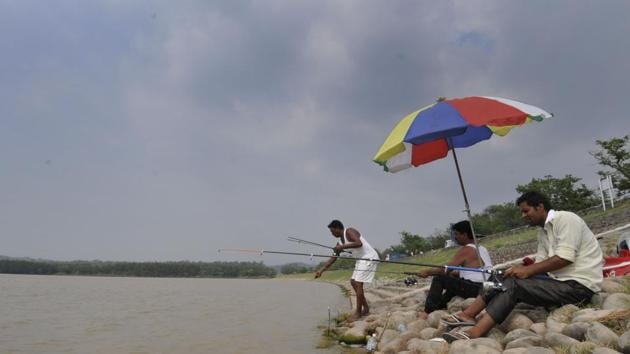 Principal chief conservator of forest (PCCF) Jai Raj issued an official order Tuesday putting a ban on angling in forest areas, including protected areas and tiger reserves.
"Angling is a crime under Section 11 of Prevention of Cruelty to Animals Act and has thus been banned across state," Jai Raj, also the head of the forest force (HoFF) said. "How can the government subscribe to a policy which violates the Act?"
Hindustan Times had on July 15 reported that the state forest department would be banning the activity.
The forest department notification comes a month after chief minister Trivendra Singh Rawat approved the ban in presence of forest minister Harak Singh Rawat and chief secretary Utpal Kumar Singh during a State Board for Wildlife meeting on June 15.
As per the notification, angling "includes use of anglers which gets hooked on the lower portion of the mouth of the fish". It further states that "this activity results in pain and trauma" to the finned species.
The notification also cited the Uttarakhand High Court's (HC) landmark judgment on July 4 declaring entire animal kingdom, including birds and aquatic species, as legal entities "having a distinct persona with corresponding rights, duties and liabilities of a living person." The HC had also declared all citizens of the state as "persons in loco parentis (in place of parents)" as the human face for the protection of animals.
Angling, especially of the Mahaseer, a type of carp, was started by a private group in Corbett Tiger Reserve along Ram Ganga river in 2004. But the National Tiger Conservation Authority (NTCA) in 2013 found several violations, including construction of a road and three camps besides tree cutting, in the name of angling, and stopped the activity there.
The forest and fisheries department had been providing temporary permits for angling in some parts of state. Almost all rivers of Uttarakhand flow through the forest areas, divisions, tiger reserves, national parks, wildlife sanctuaries and biosphere reserves and the ban has come as a major blow to anglers and activity providers.
"It has been argued for the purposes of the ban that the practice of catching and releasing is cruel to fish. Contemporary research proves that pain is a fundamentally human concept. Fish are equipped to deal with hunting crabs, spiny fish and foraging among gravel. Many a times we, as anglers, realise that the fish doesn't realise that it has been hooked until it sees the angler on the bank. Therefore this argument of cruelty is fundamentally flawed," Lalit Mohan, an angler and conservationist, wrote in an e-mail to HT.
Contacted, Rajeev Bhartari, chief wildlife warden said, "The decision has been taken by the CM and so be it."
States like Karnataka, Odisha, Tamil Nadu, Andhra Pradesh, West Bengal and Goa have banned angling for short periods, not completely. Along with Mahaseer, some of the widely hunted fish are Grass Carp, Silver Carp and Rohu.