Uttarakhand HC notices to Centre, four states over river pollution
Sep 26, 2018 05:53 AM IST
Uttarakhand high court has issued notices to the central government and four states, including Uttarakhand, seeking suggestions for cleanliness and maintenance of Ganga and Yamuna rivers
The Uttarakhand high court has issued notices to the central government and four states, including Uttarakhand, seeking suggestions for cleanliness and maintenance of Ganga and Yamuna rivers.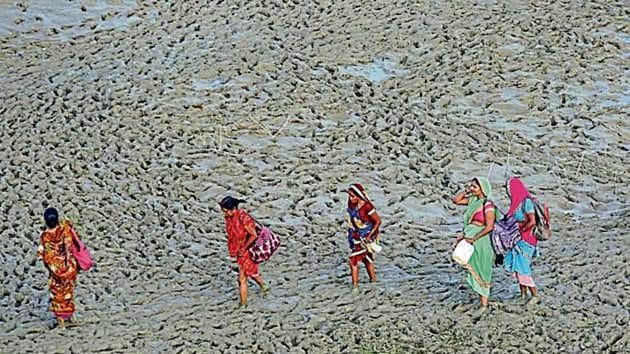 The court also asked them to file replies on what steps they have taken for cleanliness and maintenance of the two rivers.
Besides the Centre and Uttarakhand government, notices were sent to Uttar Pradesh, Delhi and Haryana governments, Uttarakhand pollution control board and state mission for clean Ganga.
The court has fixed October 10 as the next day of hearing. The court also appointed advocate Ajay Veer Pundir as amicus curiae in the case.
The division bench of justices VK Bisht and Lok Pal Singh gave these direction after treating a 19-page letter from Delhi-based activist Ajay Gautam as a PIL. The order was issued on September 12, but its copy was made available on September 25.
Gautam stressed that waters of Ganga and Yamuna were not even fit for performing religious rituals. He has cited various studies that pollutants in Ganga were 3,000 times more than the permissible limit defined by WHO as safe. Ganga water near Haridwar had Coliform bacteria 100 times more than the permissible limit, he added.
The order said: "We cannot forget that river Saraswati has already lost its existence by efflux of time. Thus, if all of us will not come together and make sincere efforts, the generations to come will only be able to know about these rivers in documentary and films and millions of people will have to suffer this irreparable loss."
The high court directed all the respondents to maintain cleanliness and piousness of Ganga and Yamuna, and take immediate steps to stop dumping of garbage, sewerage and industrial effluents in the two rivers.
The 2,525-km-long Ganga is home to over 140 fish species, 90 amphibian species and the endangered Ganges river dolphin, according to experts.
Environmentalists have consistently raised concerns on pollution of the river, caused by varied activities of nearly 40 crore people living close to its banks.
In a first in India, in March last year, the high court had accorded the status of "living entity" to the Ganga and Yamuna rivers bestowing on them same legal rights as a person. However, in July last year, the Supreme Court stayed the order.
The Uttarakhand high court has repeatedly expressed its concern on pollution in Ganga. In August, the court while taking suo motu cognizance of contamination of Ganga waters, directed the state government to ensure no untreated sewage water is released into the river.