6-year-old raped in toilet of south Delhi school, housekeeping staff arrested
Updated on Oct 05, 2017 11:11 PM IST
Delhi Police have registered a case of rape and have arrested the accused. AIIMS doctors who confirmed rape have reportedly told the girl's parents that she will have to undergo surgery.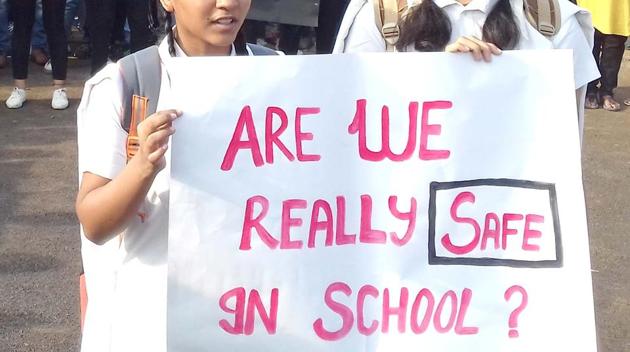 A six-year-old girl was raped in a south Delhi private school on Wednesday afternoon allegedly by a member of the institute's housekeeping staff, who was hired about a fortnight ago.
Delhi deputy chief minister Manish Sisodia ordered a magisterial probe, within hours of Hindustan Times reporting the crime on its webpage on Thursday morning.
Police arrested the 22-year-old suspect for sexually assaulting the Class 1 student in the school toilet, a charge he denied and said he was merely helping the girl as the woman attendant wasn't present.
The crime put to question the efficacy of having a police clearance certificate for employment as the suspect was verified and cleared by Delhi Police last year.
A school official said the suspect submitted the certificate and promised to "renew it in a day or two".
He worked for a courier company before joining the school.
Wednesday's rape was the latest in a spate of crime in and around the national capital that expose the vulnerability of children in schools.
In the past month, a Class 2 student was killed in a washroom at Ryan International School in Gurgaon and a five-year-old was raped inside a toilet of a private school in east Delhi.
According to the complaint filed by her parents, the child returned home from school at 2.30pm and told her mother about the crime. The parents rushed to the school and informed the principal, after which police were called.
The child's father said the woman attendant, who was supposed to assist children, was not in the washroom when the crime happened.
"She had been sent downstairs for some work. After using the washroom, my daughter called the woman for help but a male employee entered and assaulted her sexually. My daughter shouted and rushed to her class," he said.
The child was taken to AIIMS for a check-up and doctors confirmed the rape.
Doctors reportedly told the parents that she will need surgery to treat internal wounds.
"We are in shock and have nothing to say. We send our kids for education, not to become victims of perverts loitering in schools," the father said.
The sub-divisional magistrate visited the school on Thursday and issued a notice to the school management. A team from the Delhi Commission for Protection of Child Rights will visit the campus on Friday.
Chinmoy Biswal, the additional deputy commissioner of police (south), said the suspect is a resident of Govindpuri.
Close Story
Personalise your news feed. Follow trending topics