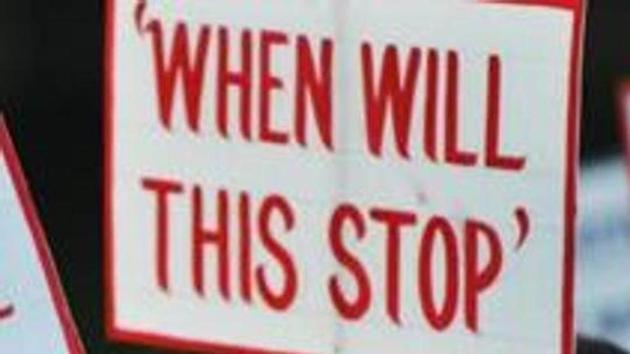 60-year-old man rapes two minors, pays them
₹

5 each to not reveal incident

Delhi Police said investigations revealed that the two girls were playing outside the house of the 9-year-old girl when Jainul arrived there and promised to treat them with chocolates and sweets.

UPDATED ON DEC 28, 2017 12:09 PM IST
Police have arrested a 60-year-old man who sexually assaulted two minor girls and then gave them Rs 5 each not to tell anyone about the incident.
The alleged accused Mohammad Jainul, who works as a labourer told police he lured the two girls, aged 5 and 9 years to his house in south west Delhi by promising to give them sweets.
Police said the incident took place on Sunday.
Deputy Commissioner of Police (South West) Milind Mahadeo Dumbere said police learnt of the incident,when the parents of one of the girls called 100 on Sunday evening.
Police said investigations revealed that the two girls were playing outside the house of the 9-year-old girl when Jainul arrived there and promised to treat them with chocolates and sweets. DCP Dumbere added that the parents of both the girls are labourers who had gone out for work when the two kids were abducted.
"He took both the girls to his house and assaulted them in front of one another. Before he let them off he warned them not to tell anyone about the assault and handed them over Rs. 5 . The two then went home," said Dumbere.
Terrified of the man's warnings, the two girls reportedly did not talk to anyone till the evening, when 5- year-old girl started crying because of the pain. Police said that the child told her mother about the elderly man who had touched her . The girl's mother spotted the injury marks on her daughter's private parts.
DCP Dumbere said the two families then approached police after which their statements were recorded. The two girls idenfied the man as the alleged rapists.
" They were then counselled and a case was registered against Jainul. Our team arrested him. he was produced before a court, which sent him to 14-days judicial custody ," said Dumbere.
Police said Jainul is married with kids. At the time of the incident, his wife and kids were not at home.
South Delhi rape
Meanwhile, in south Delhi, police have arrested a 22-year-old in connection with the rape of a minor. Police said the 12-year-old girl was allegedly raped many times in the last four months by her landlord's relative in south Delhi's Yusuf Sarai.
An FIR was registered at the Hauz Khas police station on Sunday. On Tuesday, police arrested the alleged accused, who had fled his house after learning that the victim had filed a police complaint. He was caught from his relative's home in Delhi, said police. The accused Bunty worked as a helper at a shop in the area.
Police said that last week the girl's elder sister saw Bunty coming out from her room. "When she asked her sister about Bunty in her room, the girl broke down and narrated her ordeal. The family then informed the police," said a police officer.
Close