Delhi police block AAP's march to PM Modi's house; Kejriwal assures IAS officers of safety
Protest march marks latest episode in Delhi Chief Minister Arvind Kejriwal's allegation that IAS workers are on strike at the behest of central government.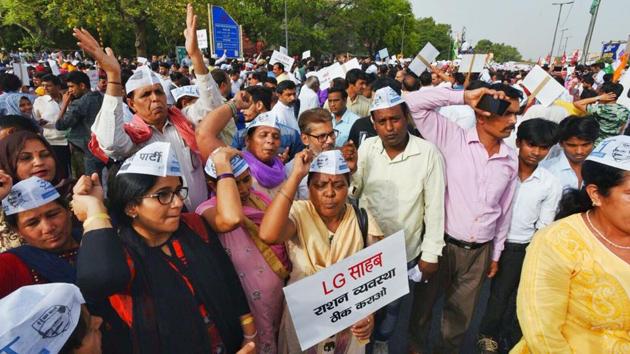 Updated on Jun 18, 2018 09:59 AM IST
Hindustan Times, New Delhi |
Ashish Mishra
Aam Aadmi Party (AAP) leaders accompanied by thousands of party workers marched towards the Prime Minister's residence on Sunday to support the ongoing sit-in protest at lieutenant governor Anil Baijal's office by Delhi chief minister Arvind Kejriwal and his ministers.
The marchers walked from Mandi House in central Delhi before being stopped by police near the Parliament Street police station. AAP supporters demanded that the ongoing IAS officers' strike be brought to an end and the doorstep ration delivery scheme be approved by the L-G. Five Metro stations were shut as a precautionary measure ahead of the march.
Urging city bureaucrates to attend meetings called by ministers, Kejriwal said that he would ensure the safety and security of officers "with all powers available at his command".
"It is my duty… the officers are a part of my family. I would urge them to stop boycott of elected government, return to work and start attending all meetings of ministers, respond to their calls and messages and join them for field inspections. They should work without fear or pressure. They should not come under any pressure from any sources, whether state or central government or any political party," Kejriwal said in a statement, his first such on the ongoing stand-off between the government and bureaucracy. Kejriwal and his cabinet colleagues Manish Sisodia, Satyendar Jain and Gopal Rai have stayed put for a week at Raj Niwas to demand that the L-G order the IAS officers to end their alleged strike.
The CM's statement came in response to safety concerns flagged by the IAS?Association at a press conference on Sunday. Denying that they were on strike, the IAS officers said there was an atmosphere of "fear" and "mistrust" in the bureaucracy in the national capital.
"Whatever gathering or meeting it is, we don't feel safe, (hence) we don't attend. However, we are attending all statutory meetings. The misinformation, which is being spread, that we are on strike is completely false and baseless. We are all at work, conducting all public inspections, attending meetings. Everybody is working to their utmost sincerity, vigour and dedication," the association' s secretary Manisha Saxena said.
Saxena is divisional commissioner of Delhi and holds several charges in various departments. The IAS officers are likely to meet on Monday to discuss the next course of action.
The officers said the bureaucrats were completely "apolitical" and "neutral" and worked according to the law and the Constitution, adding that it was unfortunate that they were being used to score political points.
Kejriwal urged Prime Minister Narendra Modi to step in and end the IAS officers' strike and "let the elected government work".
The protest march also saw the presence of Communist Party of India (Marxist) leader Sitaram Yechury who said that "federalism was being undermined". The Shiv Sena and the NCP extended support to the AAP on the ongoing stand-off.
Earlier in the day, Mamata Banerjee, N Chandrababu Naidu, HD Kumaraswamy and P Vijayan, the chief ministers of West Bengal, Andhra Pradesh, Karnataka and Kerala, respectively, met Prime Minister Modi at a NITI Aayog meeting and requested him to resolve the stalemate. Banerjee later said in a tweet that she and the other three CMs "requested Hon'ble PM today to resolve the problems of Delhi government immediately". Earlier in the morning, Kejriwal tweeted questioning how Baijal was attending the meeting in his place. "Under which provision of the Constitution does L-G have powers to replace the Chief Minister? I have not authorised him to go in my place," Kejriwal tweeted. The claim was, however, refuted by NITI CEO Amitabh Kant saying that Baijal was not present at the meeting.
After the four CMs extended their support to Kejriwal over his standoff with Baijal, Shiv Sena president Uddhav Thackeray spoke to the AAP leader over the phone on Sunday. Minutes after the call, Sena clarified its stand in a statement that read, "Kejriwal called Thackeray up and discussed the political situation in Delhi. Sena has not yet decided on the support to Kejriwal." AAP sources said Thackeray expressed solidarity with the party's fight.
Close Story