A statement issued by the Rashtrapati Bhavan said Saxena's appointment as the Lt. Governor of the National Capital Territory will be effective from the date of he assumed charge of his office.

A bench of acting chief justice Vipin Sanghi and justice Jasmeet Singh scrapped the policy while holding that it did not have LG's approval.

Anil Baijal, the current L-G, sent his resignation to President Ram Nath Kovind on Wednesday. The President, however, is out of India on a state visit till May 21.

"He submitted his resignation to the President... he cited personal reasons for the same," said a spokesperson in the LG office.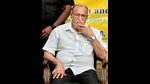 From doorstep delivery of services, doorstep delivery of ration to the CCTV project, appointing special public prosecutors and intervention in the AAP government's Covid-19 mitigation strategies, the government and the LG office had a tussle over several issues.