At Delhi's East Kidwai Nagar, 'ornamental' trees replace years-old ecosystem
Jun 27, 2018 06:57 PM IST
The housing project at East Kidwai Nagar will offer 4,608 units for central government employees against the 2,444 houses that previously existed here. It will also include office and commercial spaces.
For Gurpreet Singh, life was simple yet beautiful when he lived in the two-storey buildings of the erstwhile East Kidwai Nagar colony, which is now being redeveloped into high-rises.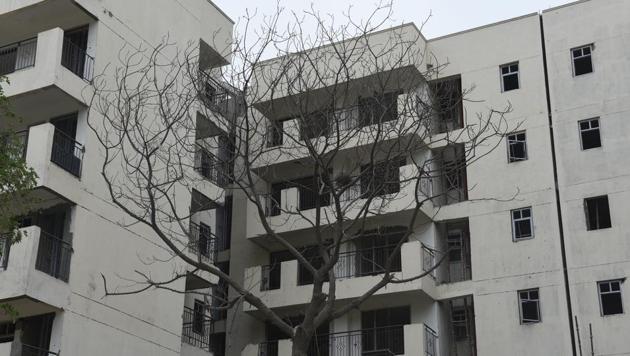 Singh recalled that the houses may have been tiny and dilapidated after being in use since the 1950s, but he loved the private green space in every block.
"The best part was that those of us on the ground floor had access to a tiny green patch behind our house. We had a banana tree. Back then, colony roads were shaded with trees such as jamun, banyan, pilkhan and neem arching overhead," he said.
Today, the same location has 14-storey apartments which, due to ongoing construction, are visible between clouds of dust emanating from trucks and earth movers. The housing project will offer 4,608 units for central government employees against the 2,444 houses that previously existed here. It will also include office and commercial spaces.
While the project report states the 86-acre land will see a 34% increase in green area, data showed that as many as 1,852 trees were cut for the East Kidwai Nagar redevelopment project. The latest report by the Comptroller and Auditor General (CAG), however, revealed that NBCC (India) Ltd, the state-owned company building the township, had got permission to fell 1,123 trees during 2014-17 for the same project.
The CAG also blamed the deputy conservator of forest (south) for not doing its part of compensatory tree plantation at East Kidwai Nagar between 2014 and 2017. It also said that the NBCC only planted 1,354 trees against the 8,165 required. "There was no evidence in the files of the forest department to show whether it ensured tree plantation by NBCC," the report said.
The National Green Tribunal (NGT), too, in its judgment had observed that the NBCC had cut "a large number of trees without permission". The NBCC, on the other hand, claims as many as 3,859 trees have been planted.
In between the 78 residential towers at the site, are sleek patches of grass, fenced with hedges and flowering plants. Buildings in the area are metres away, leaving no space for big trees. The under-construction fountains, sculptures and art work decorating the "model township" pave way for a variety of cycus and date palm, three types of fycus, all from Thailand; lucky bean, Washingtonia from China; and bismarkia from Madagascar. These trees are neither native to Delhi nor will they help in improving air, experts said.
The handful of trees already there were in precarious condition with mounds of construction and demolition waste dumped at their foot.
"The old colony had an ecosystem of its own with squirrels, birds and cross pollination. But, the redeveloped area is an eye-sore with these huge concrete buildings and only ornamental plants being put in the name of green cover," said Prabhakar Rao, member of Kalpavriksha Environment Action Group and an expert on urban forests.
AK Mittal, chairperson of NBCC (India) Ltd acknowledged that ornamental plants were being planted. "But, it is being done with approvals from concerned authorities. NBCC is also planting fruit-bearing and other trees which grow into big canopies. Also, there should not be any problem with ornamental plants as they are what we admire in other world-class cities abroad," he said.