Save me: Delhi auto driver's last words to parents before mob lynched him
Updated on Nov 26, 2018 10:18 AM IST
The auto driver's parents rushed to the spot to find their son tied to an electric pole. The couple made desperate attempts to save their son and unsuccessfully tried to call the police. They were forced to return home, leaving their son behind.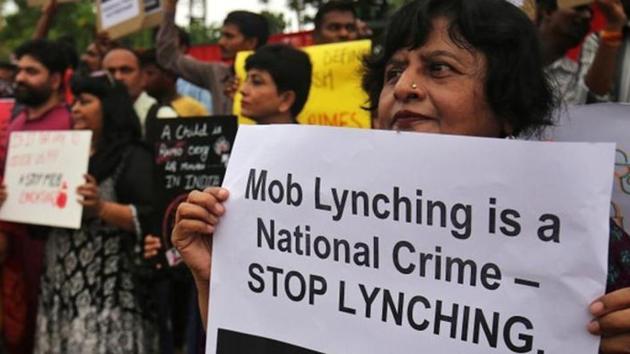 Hindustan Times, New Delhi |
Shiv Sunny
A 26-year-old auto driver died while two other men were hospitalised after a mob allegedly tied them to an electric pole, thrashed and later paraded them for allegedly stealing car batteries in West Delhi's Mohan Garden on Saturday. Someone in the mob of 200-300 people allegedly used the mobile phone of the driver, Avinash Saxena, to call his parents in the middle of the assault. The parents rushed to the scene and begged the mob to spare their son's life but to no avail.
"My son kept pleading with us to save him, but the mob left us helpless. Each time my son fainted, they would sprinkle water on his face and then thrash him again. They snatched our mobile phone when we tried calling the police," said Saxena's mother, Kusum Lata.
Some of the residents even recorded the assault.
Senior police officers refused to comment over the lynching, but an investigator said one local resident has been arrested. "A case of culpable homicide not amounting to murder, intimidation and wrongful restraint has been registered at the Uttam Nagar police station," said the officer.
Police said they have registered a case of theft against Saxena as well as Munni Pal, 26, and Suraj Yadav, 24, who were battling for their lives at a hospital with grievous injuries."Saxena was also a drug addict and it may have contributed to his death," said a police officer on condition of anonymity.
Another officer, also requesting anonymity, claimed the three were caught stealing batteries "red handed". Police said they were yet to check if the three had a criminal record. Saxena's family denied he had a criminal past and refused to believe he had stolen anything.
Saxena lived with his parents, wife and two children in a rented house in Mohan Garden. He usually worked at night. He was lynched near Pipal Chowk, nearly two kilometres from his home between 3.30 am and 7.30 am on Saturday. Residents alleged that the three were caught after a spate of thefts of car batteries.
"The three of them had stolen batteries from cars parked in an empty plot of land. We caught them while they were loading the batteries in their auto-rickshaw," said a resident, who refused to identify himself for the fear of being identified.
Over the next four hours, the three were kicked and punched before the residents decided to "send a message" by parading them. "While being paraded, they were forced to carry the batteries they had stolen," said another resident.
Around the same time, the call to Saxena's parents was made. "I received a call at 4.30 am. My son sounded afraid and asked me to meet him with his auto's documents," said Saxena's father, Vinod Kumar.
The couple rushed to the spot to find their son and the other two men tied to an electric pole. "Around half-a-dozen people were taking turns to hit them with sticks and rods. Scores of others were shouting 'chor-chor' and 'maaro-maaro'," said Lata.
The couple made desperate attempts to save their son and unsuccessfully tried to call the police. They were forced to return home, leaving their son behind. "...we returned to the spot with a police team around 8.30 am...," said Kumar.
A police vehicle later arrived at the spot and took the three to a hospital where Saxena was declared brought dead.
Personalise your news feed. Follow trending topics