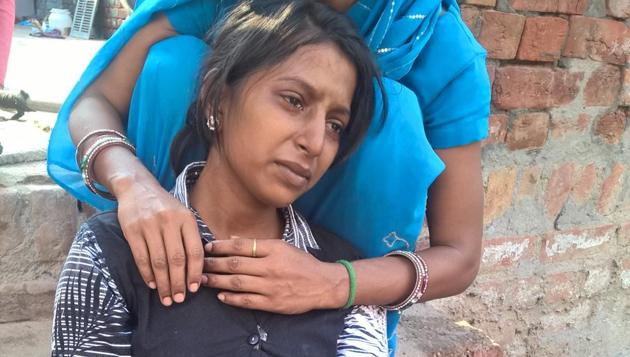 Uncle hated that mom earned more, says daughter of woman beheaded in Delhi
Rama Shankar confessed his crime to the Delhi Police even before it had been discovered. He claimed that 'liberal ways' of the victim Kalawati were bringing disrepute to the family prompting him to murder her.
UPDATED ON AUG 30, 2017 10:26 AM IST
A day after her paternal uncle allegedly murdered her 31-year-old mother and chopped off her head and hands, 17-year-old Sanjana went with police to identify her mother's disfigured body that was found in an abandoned park in Rohini Sector 24.
Sanjana identified Kalawati's body with the help of a flower-shaped tattoo on the body's right wrist.
Sanjana's uncle Rama Shankar (35) had called the police and confessed to the murder on Saturday afternoon. He allegedly committed the crime on Friday night.
Police said Shankar was angry with Kalawati as he believed her 'liberal outlook' towards life was hurting the family's "honour". He murdered Kalawati and chopped off her head and hands, police said. He then wrapped the severed head and hands, and the knife used to commit the crime, in the woman's saree before throwing the bundle in a tempo that was passing by. The body parts are yet to be recovered.
Kalawati's family comprised her husband Fugi Lal (33), daughters Sanjana (17), Mannu (15), Sarita (12) and son Armaan (10).
The family had shifted to Delhi two years ago from Chitrakoot at Allahabad in Uttar Pradesh, in search of a better livelihood. They live in a rented room at Shyam Colony in outer Delhi's Budh Vihar phase-2.
Kalawati and Lal had a love marriage. Kalawati opened a cosmetics shop in the village. In Delhi, she worked in a manufacturing unit close to her house. She was financially independent and worked hard to meet the expenses of her children's education, said her family. Her husband works as an e-rickshaw driver.
Things were going on smoothly for the family, but the elder brother-in-law, Rama Shankar, was creating problems by unnecessarily interfering in their lives, said Sanjana.
"Bade papa was jealous of us. Our family was earning more than him. He did not like it. He had even demanded Rs 1 lakh from my mother. He threatened her when she refused. My mother was extremely scared and used to cry. But she bravely went to work every day and did not tell my father anything. She did not want dad to come in harm's way," Sanjana said.
Shankar lived in a separate house with his family at Pehladpur in outer Delhi's Begumpur. A scrap dealer by profession, Shankar, used to object to Kalawati coming home late from work or whenever he spotted her talking to her colleagues out on the streets, Sanjana said.
"My mother was scared that he might harm her physically. She shared her worries with me. I had told her that uncle wouldn't dare to harm her with us being around," recalls Sanjana.
On Friday, Kalawati had woken up early as usual to get ready for work. She made breakfast and lunch for the family, packed some food for herself and left for work at 10am. Her work usually used to get over by 10.30 pm. When she did not return till late in the night, the family panicked.
"I must have called her 100 times through the night. Her phone was not reachable. I and my father went to the police station in the morning. A missing report was filed by afternoon and we returned home. A couple of hours later, police informed us about her death," said Sanjana.
Close