Delhi accident victim: Why don't people step forward to help? It's the 'bystander effect'
Aug 18, 2017 08:27 PM IST
Is there a psychological explanation behind why people don't come to the aid of accident victims?
You see a man get hit by a car. He is lying on the road, bleeding. Do you help him or look away and walk off?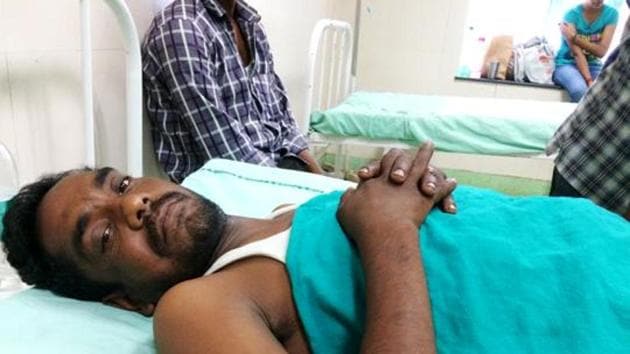 On Wednesday, 35-year-old Narender Kumar lay injured on the roadside for 12 hours, as passersby chose to ignore him. Worse, those who stopped made away with his money and phone.
What explains the shocking apathy of the capital's citizens? The 'bystander effect' may be the answer, according to psychologists.
What is the bystander effect?
According to the theory, a bystander is discouraged from helping a person in emergency due to the presence of other people.
Social psychologists Bibb Latané and John Darley came up with the theory after the infamous 1964 murder of Kitty Genovese in New York City. Genovese was stabbed to death outside her apartment. She was lying outside her home when the killer returned to stab her again. Neighbours who witnessed the crime did not come to her aid.
The murder prompted Latané and Darley to launch a series of experiments where they measured how long it took participants — who were alone or aware of others' presence — to intervene in a staged emergency.
The study concluded that the presence of others discourages people from helping, often by a large margin.
When in a crowd, there is a 'diffusion of responsibility'. No one thinks it is their responsibility to help, so no one comes forward. However, when alone, the responsibility is sole, and this pushes one to help the affected.
This diffusion of responsibility can be seen in many other cases too, says Samir Parikh, consultant psychiatrist and director of department of mental health and behavioral Sciences, Fortis Healthcare.
"When you see someone being bashed up and don't intervene, or when someone is molested on public transport but no one stops it. Everyone thinks, mera kya lena dena hai (what have I got to do with this)?" explains Parikh.
A severe lack of empathy
The other reason, psychologists say, is the growing lack of empathy in our society.
"These days, if you look at society, there is a focus on one's own self," says clinical psychologist Pulkit Sharma, adding that everyone is in a mad race, and for them, their agenda is more important than someone needing help.
He cites the ambulance example. "No one moves aside for the ambulance because, for them, reaching work or home is the priority, not the person in the ambulance."
This self-absorbed selfishness is on display everywhere: when no one waits for an old person to cross the road or when a driver is okay with hitting another in his rush to reach work.
Parikh says that in the last few years, public apathy has risen. "When there is a lack of connect, social attachment and responsibility is diluted. That's when you see a mishap occurring but don't stop it," he explains.
Fear Of Harassment
Another factor that holds back people is the fear of police harassment. "Will I get into trouble, is the first thing people think," says Sharma.
However, the Centre has brought out rules to protect Good Samaritans from being harassed, following a Supreme Court directive.
Sharma feels the government, police and hospitals have to spread awareness that there will be no repercussions for those helping victims to change the mindset of people.