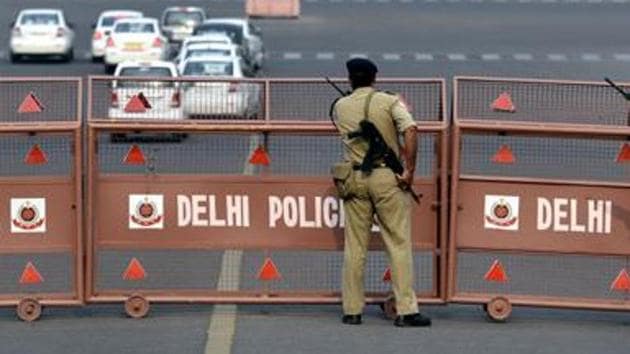 Delhi Police officer accused of molestation let off with mild warning
From 2012 to 2016, four station house officers of Delhi Police were charged with molesting women, but only one was booked and is still facing trial.
UPDATED ON OCT 03, 2017 07:58 AM IST
Three years ago, Kuldeep Singh, the then station house officer (SHO) at the Defence Colony police station in Delhi, allegedly sent lewd phone messages to a woman during the course of an investigation. On one occasion, he allegedly dropped by her office and forcibly kissed her.
The woman complained to his higher-ups. An inquiry was conducted, following which Singh was let off with a warning. He now serves as the SHO of Neb Sarai.
A Right to Information (RTI) application filed by Hindustan Times found that although four SHOs were charged with molesting women from 2012 to 2016, only one was booked and is still facing trial.
Of the other three, two SHOs said they were let off after complainants withdrew charges against them while the third was given a clean chit.
The Delhi Police had named just three SHOs in its initial response to the RTI query. It was only when HT filed a fresh application with specific details of Singh's case that it disclosed his name.
A fifth case that was reported in the media in 2016 did not figure in the RTI response at all.
When contacted, the SHO in question admitted that a woman had lodged a complaint against him before the magistrate, but said that the complaint was later withdrawn.
In its RTI reply, Delhi Police said these cases were closed but refused to part with inquiry reports.
According to the written complaint against Singh to the Delhi Police's vigilance cell in 2014, a copy of which is in HT's possession, the former Defence Colony SHO's overtures were followed by a flurry of SMS apologies for his behaviour.
Additional deputy commissioner of police (vigilance cell) NS Minhas stated in his response to HT's query that a show-cause notice was issued to Singh, following which he was "warned to be more careful in the future".
A request for the investigation report in this connection was rejected on the grounds that it contained "personal data" as well as "third-party information".
Singh, for his part, insisted he was cleared of all charges. "The allegation was made against me while I was investigating a case related to education. An inquiry was conducted, but they found nothing," he said.
A source said the matter was escalated to high levels in the police department, but was then abruptly swept under the carpet. "They did not even provide the complainant with a copy of the inquiry report despite repeated requests in this regard," he added.
Speaking to HT, former chief information commissioner MM Ansari slammed the Delhi Police for allegedly concealing facts. "It's a serious issue. I don't think an inquiry report can be termed as third-party information," he said.
Delhi Commission for Women head Swati Maliwal said that the incident portrayed the hypocrisy behind the city police's mission to ensure women's safety. "They did not adopt the correct approach. An FIR should have been filed, and a proper investigation launched into the complaint."
Their allegations, however, were dismissed by special commissioner (operations) Deependra Pathak. "Delhi Police is a top-class professional force, and it works hundred percent within the folds of law," he said, without going into the specifics of the case.
The fifth police officer against whom molestation charges were filed was cleared of molestation charges. He was later arrested for allegedly abetting the suicide of a woman and is facing trial in that case.
Close