Murder accused in Delhi find new ways to hide bodies in plain sight
An analysis of killers' behaviour shows how they take painstaking efforts to dispose of or hide the bodies of their victims.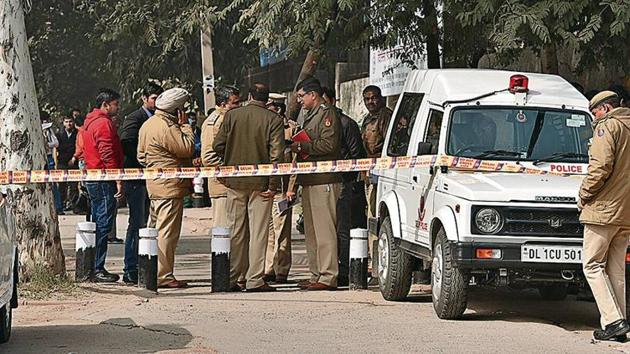 Updated on Aug 27, 2018 08:42 AM IST
Hindustan Times, New Delhi |
Shiv Sunny & Karn Pratap Singh
When property dealer Lalit Jain allegedly "hammered" his wife Silky to death in north Delhi last December, he and his family were at a loss on how to dispose of the body.
After a lot of deliberation, they reached a consensus – to roll the body down a gorge near Mussoorie and then file a missing complaint. And in case the body was discovered, the time lapse and the distance would make identification nearly impossible.
To avoid suspicion along the 300-km route, Jain allegedly made his sister-in-law and his three-year-old niece a part of the drive as the body lay hidden in the leg space between the seats.
Jain is not the only one to adopt such meticulous planning to hide their crime. An analysis of killers' behaviour shows how they take painstaking efforts to dispose of or hide the bodies of their victims.
From living with corpses for weeks, burying them in courtyards and stuffing them in refrigerators – Delhi's killers have done almost everything.
Delhi witnessed nearly 40 murders every month on an average this year.
Though police do not maintain separate data of how killers disposed of their victims, senior officers say they come across at least two dozen cases every year which leave them shocked.
"Mostly those who have killed in a planned manner or in a fit of rage make efforts to dispose of bodies because they fear being linked to the murder. Those who kill during robbery or for rivalry usually do not care to dispose of or hide a body," says Madhur Verma, Delhi Police spokesperson.
Deputy commissioner of police Aslam Khan who arrested Lalit Jain and his relatives says the city's population, heavy police presence and the absence of desolate space often force murderers to make such unusual efforts. "Jain and his family had believed they had executed the perfect murder and disposal. But they did not know a CCTV camera installed outside another house was capturing them," said Khan.
In February this year, civil services aspirant Avdesh Shakya lived with the decaying corpse of a seven-year-old boy stuffed in a suitcase for nearly a month after the police installed CCTV cameras in the neighbourhood. "Whenever the stench would draw attention, he would produce dead rats to mislead them. The police presence and CCTV cameras in the neighbourhood did not give him an opportunity to slip out with the body. Shakya had believed he would be able to sneak out by pretending to shift homes," said Khan.
Rajat Mitra, a clinical psychologist, says the modus operandi of each killer and the method of body disposal is unique. "This is called their 'signature'. The method of disposal can help identify a killer and solve the murder," says Mitra.
Mitra recounts a decade-old rape-cum-murder of a six-year-old girl in Mehrauli. He had testified in that case. "The killer had loaded the dead girl on his back and walked through a busy street to dump the body in a water tank two kilometres away. Such was his confidence that no one on the road suspected anything," says Mitra.
The most common practices are hiding bodies in bed boxes, almirahs or even the ventilation shaft as was seen in north Delhi's Model Town in 2016.
One such case was of Delhi University student Arzoo Singh Chauhan, who was killed in February 2016, allegedly by her boyfriend Naveen Khatri when she insisted on marriage. Khatri allegedly hid the body in the ventilation shaft and emptied deodorant bottles to conceal the smell from his newly wed wife.
Last November, a bartender in Saket allegedly chopped his colleague into pieces and stuffed his body in a refrigerator. The killing remained under the wraps for four days until a police team raided the house.
Burying bodies or burning them to destroy evidence is also common. In one of the most sensational cases, former Congress youth leader Sushil Sharma burnt the body of his wife Naina Sahni in the tandoor of a restaurant in central Delhi in 1995.
Often, police come across cases of killers deliberately leaving bodies on railway tracks or the road to pass off the murder as an accident. The murder of an army major's wife in Delhi's Cantonment in June this year was one such case. Another army major had allegedly run over the woman with his car after slashing her throat.
Burying bodies at empty plots may be an old method but continues to be used. In May 2016, a business rivalry led to three men killing 50-year-old Mohammad Idrish in Sonia Vihar. They buried his body and motorcycle on a land where a DTC bus terminal was to come up.
"The killers told us they were inspired by the film 'Drishyam'... They believed burying the motorcycle would destroy all evidence," said an investigator.
Three years ago, two men, Aman and Jitender, killed a 15-year-old boy in outer Delhi's Mangolpuri and then rode with his body sandwiched between them on a motorcycle for nearly 5km to dump it in Vijay Vihar.
Another method is to deface, burn or decapitate their victims to conceal their identities.
Rajat Mitra says how killers treat the bodies of their victims shows their mindset and relationship with the dead. "If a killer takes much care to hide the body, it usually shows affection. If they deface the body, it is likely to be the role of a stranger or someone hateful."
According to DCP Khan, killers realise it is not difficult for Delhi Police to identify a dead body. "We have a strong database (zipnet) of all unidentified dead people and it helps us quickly identify them based on missing reports. Because of this, many Delhi killers choose to lure their victims outside NCR and then kill them," says Khan.
Bhisham Singh, deputy commissioner of police of Delhi Police's crime branch, says a lot of the bizarre disposal plans were found among first-time killers and those who murdered at the spur of the moment. "In that desperate moment to conceal their crime, they try to recollect ideas from novels and films they read or watched. But such unusual efforts often provide us the necessary leads and the motive behind the crime," said Singh.
The DCP recounted how a killer named Rinku kept the murder of his live-in-partner Arti under the wraps for nine years after killing her in a "fit of rage" in Sultanpuri. He had moved the body to Najafgarh by telling an auto driver that the woman was not moving as she was "possessed". "After crushing her face and dumping her body, he managed to mislead her parents by dispatching letters in her name saying she married a lawyer's son and did not want to be disturbed," says DCP Singh.
Close Story