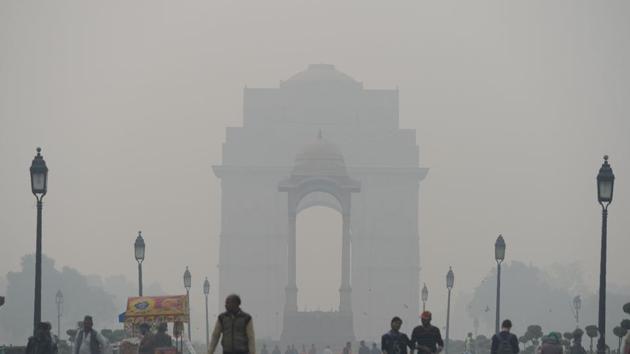 Delhi won't wait for EPCA order to take emergency measures when air goes foul again
Air pollution: The Delhi Pollution Control Committee will issue an alert immediately to all departments concerned
UPDATED ON DEC 22, 2017 08:51 PM IST
The next time Delhi's air quality goes foul, the authorities won't wait for directions from the pollution panel EPCA to get into action.
The Delhi government said this in a review meeting of the graded response action plan (GRAP) conducted by the Supreme Court-mandated Environment Pollution (Prevention and Control) Authority (EPCA) on Friday.
According to an environment department official, after the air quality moved to the "severe plus" level on Thursday, Delhi chief secretary Anshu Prakash took meeting of senior officials of all government departments.
"We are prepared. As soon as 'severe plus' comes again (for 48 hours), we will initiate action. We won't even wait for any meeting. The Delhi Pollution Control Committee will issue an alert immediately to all departments concerned," the official told the EPCA members.
The SC-appointed appreciated the decision. "This an excellent move. If this becomes routine, then actually EPCA's role in even sending directives should go out. It becomes something that happens automatically… Hopefully by next year, we will be in a position that the moment it reaches severe plus, these emergency actions are taken," EPCA member Sunita Narain said.
The EPCA on Thursday had on Thursday written to the Delhi, Uttar Pradesh, Haryana and Rajasthan governments to gear up for another round of tough measures under the "emergency" category of the graded plan keeping in mind the rising pollution levels.
Under the GRAP, pollution is considered 'severe plus' or 'emergency' when the reading of ultrafine particulates PM2.5 or PM10 are above 300 and 500 ug/m3, respectively.
On Thursday, at 2pm, the PM2.5 readings had touched 320.9 ug/m3, in the emergency levels, while the PM10 levels were just short of the danger mark at 498 ug/m3.
Measures listed under the emergency category are rolled out when these conditions prevail for 48 hours at a stretch. On Friday, however, air quality got improved and became 'very poor' and so no new measure is being put in place, at the moment.
Delhi police was asked to have better liaison with their counterparts in Haryana and Uttar Pradesh to regulate the movement of trucks.
For the odd-even road rationing measure, which is supposed to be implemented as part of the emergency measures, the EPCA said all major towns of NCR will be included the next time the scheme is rolled out.
"Apart from Delhi, odd-even has to be enforced in Gurgaon, Faridabad, Noida, Greater Noida and Ghaziabad. Two-wheelers will also be included. We will send an advisory note on this to all authorities," Narain said.
Close