Burari deaths: Delhi businessman who led hanging ritual took 'orders from dead father', diary notes reveal
New Delhi, Hindustan Times |
Shiv Sunny and Karn Pratap Singh
Jul 03, 2018 06:31 PM IST
Burari deaths case: Notes reveal Lalit Bhatia was 'taking instructions' about property, business and family responsibilities from his dead father. He would attribute all the ritualistic activities to 'upar se aadesh'.
Lalit Bhatia, a 45-year-old businessman, seemed to have led a ritual in which 10 members of his family died on Sunday in New Delhi's Burari, a police officer has said.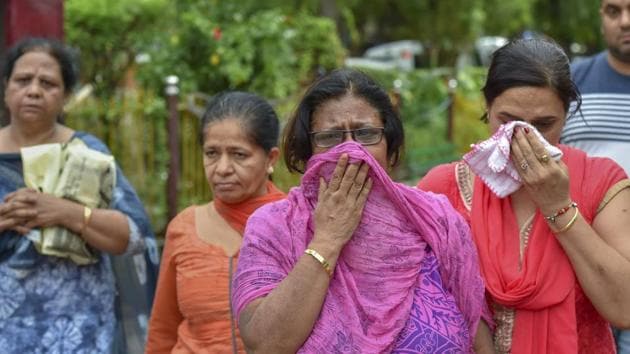 Ten people, including Lalit Bhatia, were found hanging from an iron grill, blindfolded and gagged and with their hands tied behind. Another family member, 77-year-old Narayan Devi, was discovered dead on the floor in another room.
Lalit Bhatia "wrote about dreaming about his father who died years ago and taking instructions about property, business and family responsibilities from him. He would attribute all the ritualistic activities to 'upar se aadesh' (orders from the higher powers)," said the Delhi police officer.
The dead have been identified as Narayan Devi (77), her two sons Bhavnesh (50) and Lalit (45), her daughters-in-law Savita (48) and Teena (42), her daughter Pratibha (57), her grandchildren Priyanka (33), Nitu (25), Monu (23), Dhruv (15) and Shivam (15).
An analysis of the 50 pages of the notes has suggested that they were written by Lalit Bhatia since 2015. "The handwritings match that of Lalit. The dates on which the notes had been taken were mentioned at many places. At others, it had been omitted. The frequency of writing the notes had increased since January. The last date mentioned in the notes is June 25," said the investigator.
The notes also suggest that the family had not only enlisted the steps in which they would hang themselves but also been rehearsing them to get it right when the time was ripe for the actual ritual, the investigator said.
"The notes repeatedly mentioned about performing 'vat tapasya' (worshipping the banyan tree). It made special mention of worshipping the hanging roots of the banyan tree. As per the notes, the ritual performers were to hang in a formation that would replicate the hanging roots of a banyan tree," the investigator.
Though the initial notes did not suggest hanging from the ceiling, but they point out that the family had been tying the hands, covering the eyes and mouth and plugging the ears with cotton -- the ritualistic steps. Some notes spoke of the family members untying each other after the 'rehearsal', police said.
The notes also spoke about strictly following the rituals to escape consequences. "Chintan karo, chinta mat karo (Contemplate, do not worry)," the note said. Lalit also wrote about his illness in third person. "Lalit ke swasthya ki chinta mat karna...mere aane se prabhaav padta hai (don't worry about Lalit's health. His problems are because of my visit)."
Police suspect he may have been suffering from "delusional disorder". "We will seek help from a psychoanalyst and also ask relatives about his mental condition," said the investigator.
According to Ahmed Ali, a carpenter and domestic help who worked full time with the family, said Lalit had been suffering from neck and back pain for the last three months. "He would often be taking rest and I would be taking care of his business," said Ali who has been with the family for seven years.
Ali said the family was "bahut dharmik (very religious)", but he never noticed anything unusually odd in their behaviour to suggest they were planning something like this. "The family was well-off, but did not own a car or a motorcycle. They travelled by public transport and recently advised me against buying a motorcycle. They were a very content family. They wouldn't sell tobacco products at their grocery shop," said Ali.
"The mornings would begin with each member touching the feet of their elders. The family would definitely have one meal together. They prayed thrice everyday and would not hesitate from praying at churches, mosques and gurdwaras," said Ali.
He never noticed the family praying to a particular deity, but remembered Shirdi Sai Baba's photos in the house. "They had a large worshipping place in the house earlier. But they brought a smaller one during the ongoing renovation of their home. The new temple did not have any photos or statues of deities," said Ali.
Sujata, a sister of the two dead men, Bhavnesh and Lalit, refused to believe the police's theories about ritualistic practices. "They prayed everyday and chanted the Hanuman Chalisa, but that does not explain police's version. I am unaware of their contacts with any tantriks or babas," Sujata said.
On Monday, more people emerged who claimed that their last conversations with the family indicated that they looked at a future rather than death. "I met Lalit on Saturday afternoon. He told me to arrange more tiles for the kitchen and bathroom of the house," said Ali, breaking down multiple times..
Lalit's brother-in-law, Jeevan Bahadur, said he spoke to the family over phone at 10.30 pm on Saturday. "We planned to have a get together in Dhar (Madhya Pradesh) a week later," said Bahadur.