DTC workers' strike may cripple Delhi's bus fleet on Monday
Updated on Oct 28, 2018 11:54 PM IST
The Delhi Transport Corporation is grappling with an internal crisis as its 11,286 contractual drivers and conductors have been refusing to work for want of better wages.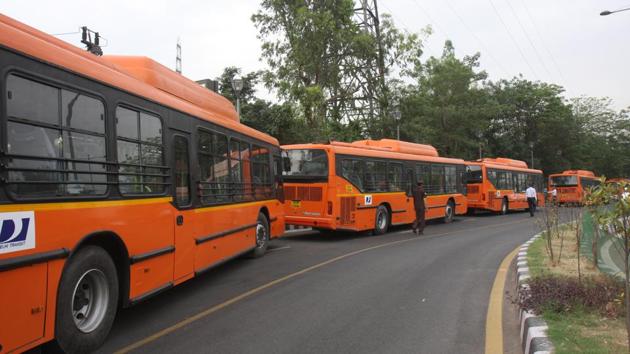 At a time when Delhi's air has already been plummeting, thousands of Delhi Transport Corporation's (DTC) fleet of over 3,300 buses may be forced off city's roads if the non-permanent drivers and conductors decide to go on strike on Monday. Experts said the step that may cripple the already dwindling public network in the city.
The DTC is grappling with an internal crisis as its 11,286 contractual drivers and conductors have been refusing to work for want of better wages.
The DTC workers' outcry grew on Saturday as the Delhi government imposed the Essential Services Maintenance Act (ESMA) on DTC to deter them from staging their planned mass strike on Monday. Under ESMA provisions, authorities can arrest workers of "essential services" if they go on a strike.
Reacting to the move, the contractual staffs who have been protesting at the Indraprastha (IP) depot said on Saturday that they would still hold the strike on October 29. Currently, the DTC's total staff of nearly 25,000 consists of 11,380 contractual workers.
"These contractual workers have been sitting in protest since October 22 against the government's move of slashing salaries by nearly 25%. No one from the government or DTC has come to discuss the matter with us till now. Imposing ESMA only means the government does not want any dialogue," said Raja Ram Tyagi, advisor, DTC workers' union. "The Aam Aadmi Party's (AAP) had promised us during the elections that they would regularise contractual workers. But, nothing has happened till now," he said.
According to the contractual drivers, until two months ago they were being paid ₹7.10 per kilometre, which now has come down to ₹5.5 per km. "In case of break-down of a bus, we used to get ₹648 per day which has been cut to ₹481 per day. This is not withstanding the biasness we have to face as against the permanent drivers and conductors," said Naveen Kumar, a DTC driver who operates from the Sarojini Nagar depot.
Rajesh Chopra, another driver, says he has to take a 4:25 am local train from Panipat to reach north Delhi's Banda Bahadur Marg (BBM) depot. Even as he reaches the depot by 6am, it is not guaranteed that he get duty for the day. "If say 100 drivers are needed in a day, DTC calls 120 drivers on duty to fill in for anyone who is absent. There are days when I come to the depot, but do not get a bus to drive. In such cases, they do not count the fact that I reported at work. I won't get paid for that day," he said.
Ankit Shrivastava, a conductor, said they don't get paid by the hour if their bus route takes more than eight hours. "There are routes such as 181, 544 and 592 in which we return in 10 hours or so, for which there is no extra pay. Delhi's traffic is such, that by following our DTC rules of speed and driver behaviour, we simply cannot reach on time," he said.
In a statement on Saturday, DTC said it has directed all its employees to report to work, failing which strict action would be initiated. Earlier this week, it had suspended eight protesting workers.
"On October 18, the Delhi government already approved restoring the old minimum wage slabs for contractual workers directly under it. The order is yet to reach the DTC. But, whenever it does, the matter will be resolved as the increased wages will come into effect. These slabs were shot down by the Delhi High Court on August 4. The AAP government was the first one to notify the hiked salaries," a government spokesperson said.
Personalise your news feed. Follow trending topics