EDMC immunises over 5,000 girls for HPV, cervical cancer
Under the civic body's immunisation programme, over 26,000 eligible girl students between the ages 10-14 were identified in 2017. Twenty percent of them have been administered the HPV vaccine so far.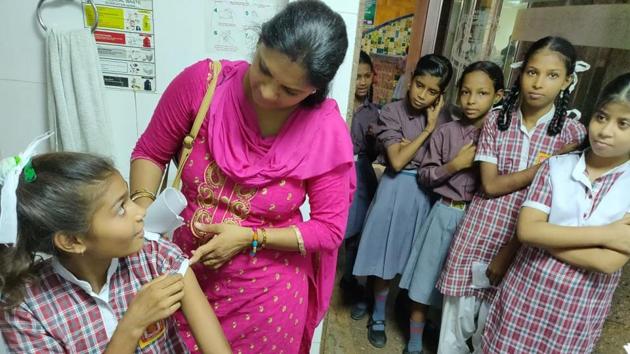 Updated on May 07, 2019 12:22 AM IST
New Delhi |
Baishali Adak
The East Delhi Municipal Corporation (EDMC) has immunized over 5,000 girl children studying in its 368 primary schools against cervical cancer over the past two years.
Under a flagship programme of the civic body, over 26,000 eligible girl students in the age group of 10-14 years were identified in year 2017. So far, around 20% of them have been administered the Human Papillomavirus (HPV) vaccine known to be about 99.5% effective against cervical cancer, said public health officials of the east corporation.
Cervical cancer -- an abnormal growth of cells at the mouth of the uterus -- is transmitted sexually and also linked with poor genital hygiene. EDMC primary schools, which run classes from nursery to fifth, are generally spread over slums and urban villages of the city like Trilokpuri, Seemapuri, Bhajanpura, etc. There is little awareness here regarding female sexual health and cervical cancer against it, said officials.
Himanshi Pandey, former Chairperson of EDMC's Education Committee, and councilor from Kishanganj, said, "We are very happy the way our HPV vaccination programme has progressed. It started in August 2017 with our doctors realizing during their 'menstrual hygiene' camps with girl students that the same age group of girls (pre-teens and early teens) is also eligible for HPV vaccination."
"Most of our students' parents work as labourers, maids and rickshaw pullers and may not have the time or money to take them for HPV immunization, but their lives are precious," she said.
Most importantly, EDMC public health officials said they are now tying up with UNICEF (The United Nations Children's Fund) to get a steady supply of the injections at the schools itself. Till now, the corporation has been ferrying girl students by buses routinely to the Delhi State Cancer Institute at Guru Teg Bahadur Hospital for the vaccine. This is free of cost for the students and after taking due consent from their parents.
"In a matter of months now, we will get the vaccines at our schools itself, so logistical and transportation problems will be solved," said Dr. Ajay Lekhi, Deputy Health Officer (DHO), EDMC. "Besides, UNICEF could provide us the injections at a price of Rs. 300 only when in the open market it costs Rs. 3000-3,200," he said.
Dr. Neelam Lekhi, Chairperson of the Indian Medical Association (IMA), who has been assisting EDMC in this immunization campaign said, "Cervical cancer is the only cancer which is preventable through a vaccine. So it's extremely important that we save our girls from this scourge."
Dr. SP Kataria, consultant of medical oncology at Safdarjung Hospital, said the World Health Organisation recommends the two-dose vaccine be given to all girls between ages 9 -13 before they are sexually active. "It can also be given to women up to 26 or 30 years of age, but that will only protect against infections she might get in the future."
India alone accounts for one-fourth of the global cervical cancer burden with about 74,000 women dying from it every year. In Delhi, 10.8% women suffer it, according to the National Cancer Registry.
Close Story