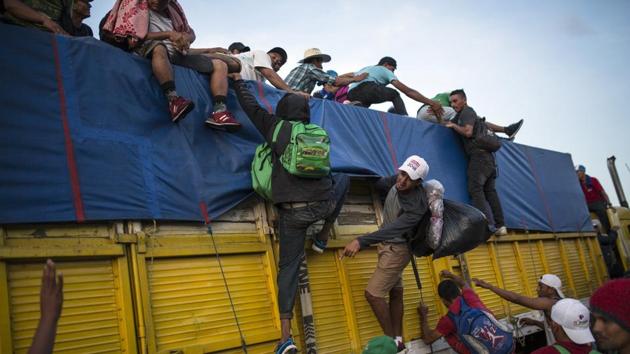 Entry of trucks in Delhi banned between Nov 8-10 to curb pollution
The EPCA has enforced a 3-day ban on entry of trucks in Delhi post-Diwali between November 8 and 10. Only trucks carrying essential commodities will be allowed within the city limits, according to EPCA's letter to the Delhi government.
Hindustan Times, New Delhi | By HT Correspondent
UPDATED ON NOV 07, 2018 12:35 PM IST
The Supreme Court-appointed Environment Pollution (Prevention and Control) Authority (EPCA) on Tuesday issued directions to the Delhi government to ban entry of trucks in the capital post-Diwali between November 8 and 10. It has also asked the government to appeal to commuters to not use diesel-run cars during this period.
There will be a complete ban on entry of trucks in city limits during this period except for those carrying essential commodities, according to EPCA's letter to the Delhi government.
The directions were issued as emergency measures, as central government's pollution monitoring agencies have predicted that Delhi's air quality is likely to deteriorate sharply after Diwali. The forecast has said adverse weather conditions and crop stubble burning in neighbouring states of Punjab and Haryana are likely to hit Delhi's air quality over the next few days.
"We have sent a letter to Delhi government to issue a public notice regarding the emergency measures to be taken as directed during the post-Diwali period. Delhi-NCR could see a sharp deterioration in air quality on account of winds from northwest direction bringing pollutants from crop stubble burning and low dispersion because of wind speed remaining almost zero," said Bhure Lal, chairperson, EPCA.
Under the SC-enforced Graded Response Action Plan (Grap), drastic measures such as the ban on entry of trucks, odd-even road rationing scheme and shutting of schools are enforced when the 'severe plus' level of pollution persists for 48 hours. The 'severe plus' levels is an emergency situation when the Air Quality Index (AQI) breaches 500, the highest value on the scale or when particulate matter — PM2.5 and PM10 — crosses the value of 300 and 500 microgrammes per cubic metre.
On November 5, PM2.5 levels in the city entered 'severe plus' category for a few hours in the morning after which EPCA had asked the city government to "intensify" enforcement of all Grap measures.
This is the second time that a ban has been enforced on the entry of trucks in Delhi. The first instance of ban on entry of truck was in 2017 during the second week of November after pollution levels had plunged to 'severe plus' category.
EPCA on Tuesday also directed governments of neighbouring Haryana, Uttar Pradesh and Rajasthan to stop the entry of trucks coming into Delhi. "The state governments…. are requested to direct all authorities, particularly the police to coordinate action on this so that trucks are turned around before entry into Delhi. Also, the governments are requested to issue public notices appealing to people to not use diesel cars," the letter stated.
According to government data, over 80,000 trucks enter city limit every day. Diesel emissions are extremely toxic and add to the severity of air pollution.
Also, post-Diwali, the air quality is likely to worsen because of bad weather conditions. If fire crackers are burst despite a Supreme Court ban, then it would deteriorate further, central government's pollution monitoring agencies have predicted.
The directions were issue after the Central Pollution Control Board (CPCB)-led taskforce suggested these measures based on the air quality forecast during this period. The directions will be reviewed after November 10.
"The predominant wind direction is likely to remain north-westerly from November 7 to November 8 with calm winds. Also, shallow fog and haze during daytime is expected, which can further lead to rise in pollution levels," said, a CPCB official, not wishing to be named.
CPCB mulls artificial rain
CPCB officials said the agency is looking into the option of inducing artificial rain in the capital after Diwali in order to wash away pollutants. However, officials, said, it could only be done once meteorological conditions are stable and cloud seeding could be done.
According to CPCB officials, they may consider it as an option to clear the air and are in talks with the Indian Institute of Technology (IIT)-Kanpur and the India Meteorological Department (IMD).
In 2016, when pollution levels had reached alarming levels, the government had proposed cloud seeding but the plan could not take off. The government had also proposed sprinkling water from helicopter to reduce dust.
Close