Evacuation begins as Yamuna crosses danger mark, Delhi govt calls emergency meeting
Updated on Jul 28, 2018 06:51 PM IST
The Yamuna in Delhi was flowing above the danger mark at 205.06 metres by 10 am on Saturday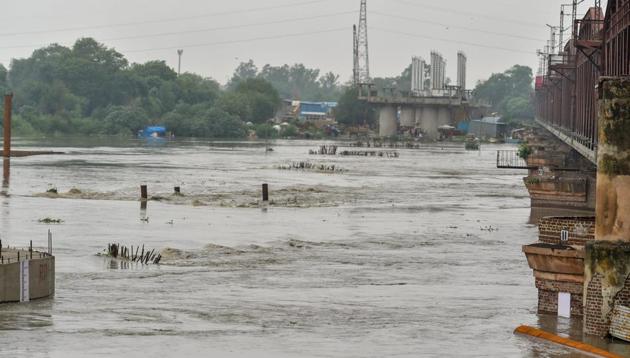 New Delhi |
Indo Asian News Service
With a flood threat looming large due to a swollen Yamuna river crossing the danger mark in Delhi, authorities on Saturday began to evacuate hundreds of persons affected by the rising water level, officials said.
The river water level rose as heavy rains continued in Himachal Pradesh and Uttarakhand, with authorities releasing more water at Haryana's Hathnikund barrage during the day.
The Yamuna in Delhi was flowing above the danger mark at 205.06 metres by 10 a.m., an Irrigation and Flood Control Department official told IANS.
"Over 10,000 persons have been affected. People earlier living on the river bed and low-lying areas are being shifted out," Nodal officer (Preet Vihar) Arun Gupta said.
The officer cautioned that the Yamuna water level is expected to go up by Saturday night.
Meanwhile, the Delhi government has called for an emergency meeting in light of the water being released from Haryana's Hathini Kund barrage, according to news agency ANI.
At 6 pm on Saturday, more than 6 lakh cusecs of water was released from the Barrage. Yamuna River is flowing at 205.30 metres, 47 centimetre, above danger level, reported ANI.
"On Saturday morning, over 200,000 cusecs was released into the Yamuna from the barrage -- which provides drinking water to New Delhi," an official told IANS in Chandigarh.
The official said residents of villages along the Yamuna river have been alerted on the release of excess water.
The official said that water at the Hathnikund barrage along the Haryana-Uttarakhand border had risen to alarming levels owing to overnight downpour in catchment states, making authorities release the extra water.
The Yamuna passes through Yamunanagar, Karnal and Panipat districts in Haryana before entering New Delhi.
The Met Department predicted hill states in Haryana's neighbourhood will continue to experience heavy rains.
Personalise your news feed. Follow trending topics