Farmers' protest in Delhi LIVE updates: Traffic police issues advisory, ask commuters to avoid certain routes
Updated on Nov 29, 2018 08:32 PM IST
Thousands of farmers from across the country started marching towards Delhi's Ramlila Maidan on Thursday to participate in two-day "Kisan Mukti March" to press for their demands, including debt relief and remunerative prices for their produce, a week after their counterparts staged a similar protest in Maharashtra's Mumbai.Here are the live updates: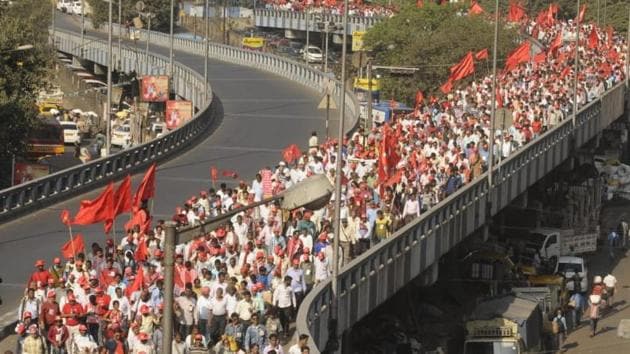 8:10 pm IST
Singer Jasbir Jassi performs at farmers' protest in Ramlila Maidan
Delhi: Singer Jasbir Jassi performs at farmers' protest in Ramlila Maidan. Farmers from all over India have gathered in Delhi to participate in a 2-day protest over their demands, including debt relief & better MSP for crops. pic.twitter.com/b0a8LY16c1

— ANI (@ANI) November 29, 2018
5:20 pm IST
Activists take to Twitter to ask people to join march
Support for the farmers poured in with activists taking to Twitter to ask the general public to join the march.
"Women farmers greet us this morning from Bijwasan as they are all set to embark on #KisanMuktiMarch. Join us even if you are not a farmer. Join the hands that toil to feed us. Jai Kisan!," tweeted political activist Yogendra Yadav.
Lawyer Prashant Bhushan also tweeted in solidarity with farmers.
"Over 3L farmers have committed suicide in India in last 15 yrs,due to successive govts betraying them. Tomorrow 1 lakh farmers from across the country are marching to Delhi to ask for fair prices & freedom from debt. Let's stand in solidarity with them," he said.
4:55 pm IST
Traffic police ask commuters to avoid certain routes
Traffic police said traffic is likely to be affected during evening peak hours on Dhaula Kuan, Sardar Patel Marg, Mother Teresa crescent, CP outer circle , Minto Road due farmers' march and advised commuters to avoid this route.
Anand Vihar, Vikas Marg , Rajghat , Jawaharlal Nehru Marg also likely to remain affected during evening peak hours, traffic police said, advising people to avoid the route.
4:29 pm IST
About one lakh expected to gather at Ramlila
The marchers will gather at Ramlila Ground by evening, the farmer leaders said, expecting a crowd of about one lakh.
4:05 pm IST
Tamil Nadu farmers arrive with skulls
A group of farmers from Tamil Nadu arrived in Delhi, carrying skulls of two of their colleagues who had committed suicide and threatening to march naked if they are not allowed to go to Parliament on Friday
3:50 pm IST
Trains carrying farmers to arrive in Delhi soon
Two special trains carrying farmers, one from Maharashtra's Miraj and other from Bengaluru, were expected to reach Delhi later in the day.
3:30 pm IST
Farmers gathering from across Delhi
The farmers are marching in from Nizamuddin, Sabzi Mandi Station, Anand Vihar Terminal and Majnu Ka Tila.
3:00 pm IST
Yogendra Yadav participating in the rally
Yogendra Yadav of Swaraj India is leading a 'Chalo Dilli' rally from Bijwasan to Ramlila Maidan, that has been joined by farmers from Odisha, Haryana, Rajasthan.
Personalise your news feed. Follow trending topics