[
farmers protest in delhi
]
Latest from farmers protest in delhi
During a spot check on Sunday, HT found that the main road is littered with some boulders and debris, with scattered potholes where tents were dug into the ground.
The Samyukt Kisan Morcha in its address on Thursday said farmers will start retreating from Delhi's border points of Singhu, Tikri and Ghazipur from 9 am on December 11.
The compromise between the Centre and protesting farm unions came after two days of back-channel negotiations that saw proposals being sent back and forth, and 11 rounds of tenuous negotiations that hit a deadlock on January 22, 2021.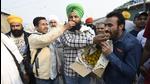 By
Zia Haq
, Hindustan Times, New Delhi
This comes in the wake of the Centre accepting all demands put forward by the protesting farmers, including the withdrawal of all agitation-related cases and compensation to all families of the farmers who died during the course of the movement against the contentious agriculture laws.

Written by Joydeep Bose | Edited by Avik Roy
, Hindustan Times, New Delhi
Tomar also confirmed that the bill to repeal the three farm laws would be tabled in Parliament on the first day of the Winter Session, scheduled to begin on Monday (November 29).

Written by Srivatsan K C | Edited by Meenakshi Ray
, Hindustan Times, New Delhi