Ghazipur landfill collapse in Delhi was a tragedy waiting to happen
Ghazipur garbage dumping site is one of the four landfill sites in Delhi. Experts say it has exceeded its capacity and should have closed down at least 15 years ago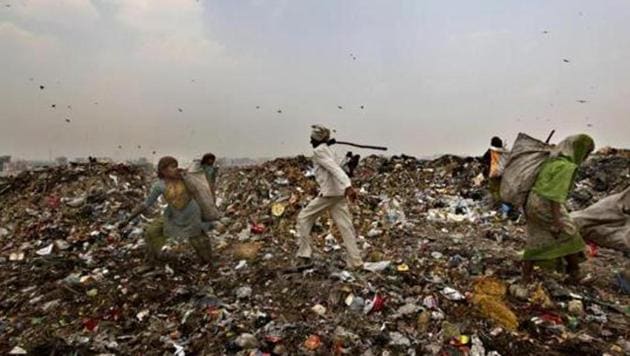 Updated on Sep 01, 2017 09:28 PM IST
The Ghazipur landfill site, a part of which collapsed on Friday killing two persons, should have closed down in 2002. But at least one-fourth of the garbage collected in Delhi is still dumped every day at this site. As garbage piled up for years at this saturated location near Delhi border, the East Delhi Municipal Corporation did little to find an alternative.
Incessant rain over the last few days only made matters worse. EDMC officials say danger is not over yet as more parts of this garbage mound can cave in.
Here's why Ghazipur was a tragedy in the making:
• The landfill has crossed the height of 50 metres and still 3000 tonnes of garbage (including silt) continued to be dumped here every day.
• The EDMC has not identified any other alternative site to dump waste so far. As per officials, the one site provided by DDA at O-Zone near Yamuna has been rejected by National Green Tribunal.
• The Ghazipur landfill was commissioned in 1984 and is not designed according to the Municipal Solid Waste Rules of 2000, which mandates all such dumpsites to have eco-friendly garbage management facilities.
• The site had no certification from Delhi Pollution Control Committee and should have shut down in 2006.
• Every day, 10,000 tonnes of garbage is generated in Delhi. Of this, east Delhi generates 2,500 tonnes, north produces 4000 tonnes while south Delhi collects 3,500 tonnes of garbage.
Close Story