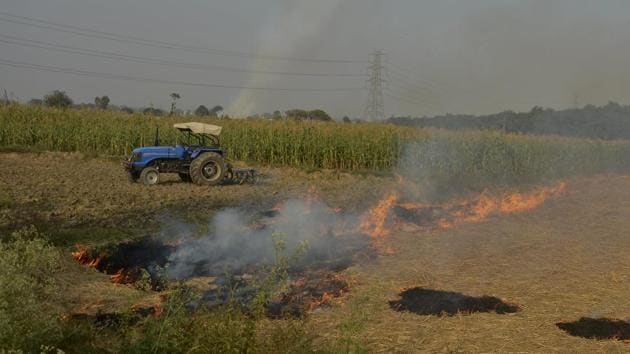 Local pollutants, not just crop burning, responsible for poor air of Delhi: IMD
IMD scientist, Vijay Soni said that winds over Delhi-NCR had changed from northwesterly to easterly, so there was hardly any influence from crop fires in Punjab and Haryana
Hindustan Times, New Delhi | By Jayashree Nandi
UPDATED ON NOV 03, 2018 09:49 AM IST
The early air quality warning put out by ministry of earth sciences (MOES'S) forecasting system shows local emissions from various pollution sources play a major role in air pollution spikes in winter.The Centre and the state blamed the crop-stubble fires for Delhi's severe air pollution, but on Friday when India Meteorological Department (IMD) scientist, Vijay Soni checked the forecast put out by the WRF-CHEM (Weather Research and Forecasting model coupled with Chemistry) , India's first air quality forecasting system, he found that the fires played no role.
Soni said that winds over Delhi-NCR had changed from northwesterly to easterly, so there was hardly any influence from crop fires in Punjab and Haryana. The air quality, however, continued to be "very poor" with an average PM 2.5 concentration of 208 micrograms per cubic metres on Friday, which was caused mainly from local vehicular and industrial emissions.
"The contribution from crop fires is usually between 10% and 30%, depending on the number of fires in the northern states and the wind direction. We see similar high air pollution levels in all the Indo-gangetic plains area, which has adverse meteorological conditions for dispersion and is land locked," said Soni. He works closely with a team of scientists at the Indian Institute of Tropical Meteorology (IITM), Pune, who specialise in remote sensing.
The forecast model works like this — pollution concentrations from Central Pollution Control Board (CPCB), Delhi Pollution Control Committee (DPCC) and System of Air Quality and Weather Forecasting Research (SAFAR) is fed in to the WRFCHEM model which already has information on weather conditions. Satellite generated aerosol optical depth — an indirect proxy for air quality which shows how solid and liquid particles in polluted air block sunlight and lead to smog) is added. Crop stubble fires picked up by satellite images are also fed in to the model.
It takes about two to three hours to compute and come up with a forecast for the next 72 hours. "The forecast gives us PM 2.5 and PM 10 levels and carbon monoxide (CO) incursion from crop burning sites. It also gives the mixing height and ventilation index forecast. If pollutants have to disperse, the ventilation index should be more than 6000 m2 per second with an average wind speed of more than 4 metres per second," Soni explained. The ventilation index on Friday was 2000 m2 per sec and wind speed was about 2 to 3 metres per sec, making dispersion nearly impossible.
"Crop stubble burning in October-november causes episodic pollution, but often we have seen dispersal of pollutants not happening for nearly a week. This had happened last year in Delhi when emergency measures had to be taken. So it's important that local emissions are also low," said another scientist associated with the forecasting system.
As of now, high resolution data and forecast is available only for Delhi-NCR. M Rajeevan, secretary, ministry of earth sciences said the air quality forecasting system may be extended to two more cities with high air pollution levels next year.
Close