Mountain of trash, stench in the air: Welcome to Delhi's Ghazipur landfill
Updated on Sep 01, 2017 09:29 PM IST
Part of a huge mountain of garbage came crashing down in a landfill in Delhi's Ghazipur on Friday. Here's a look at how it is impacting the lives of those living in the area.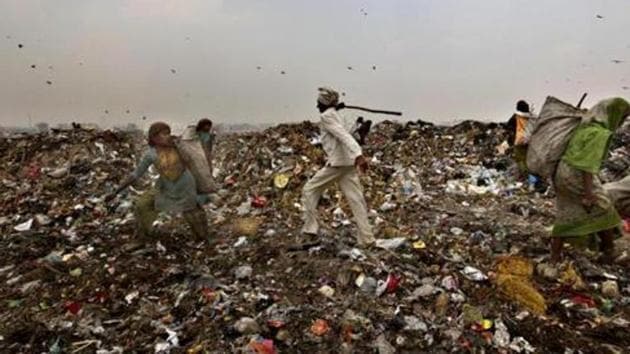 A big part of a landfill in east Delhi's Ghazipur collapsed on Friday afternoon, trapping a few people under the debris and sweeping a car and a two-wheeler into a nearby canal.
East Delhi Municipal Corporation mayor Neema Bhagat blamed the Delhi government for what she said was "poor maintenance" of the landfill spread over 70 acres.
According to reports, about 2,200 metric tonnes of garbage coming from east Delhi is dumped at the landfill every day.
In this piece that was first published on Augusts 02, 2015, we take a look at how the 100-ft high garbage hillock has forced residents live amid its stench:
These days Mahesh Kumar keeps doors and windows of his house shut all the time.
Not for fear of thieves breaking in, but because of the putrid smell from the 100-feet high mountain of decaying trash – the Ghazipur landfill – situated a few hundred metres from his apartment complex in Kaushambi, Ghaziabad.
One can get a panoramic view of the massive garbage dump, considered North India's biggest, from his terrace. Smoke is rising from burning garbage at parts of the mountain of trash. It has just rained, the sky is overcast, and innumerable ravens and kites are flying overhead.
The scene is straight out of a post-apocalypse movie. "Life is hell here. If you open the doors and windows even for a moment, you are hit by the fetid smell. You will throw up if you are not used to it. The air here is so polluted that the pipes of our air conditioners often get corroded leading to gas leakages. So you can imagine what this air can do to the human body," says Kumar, secretary of Siddharth Niketan apartment complex.
In addition to the stench, kites drop bits of flesh on the houses in the area, says Hansraj Singh, a real estate agent in the area. He says he faces complaints from those who bought or rented houses through him.
"My clients barge into my office accusing me of not warning them. But there is not much I can do," says Singh, covering his nose with a handkerchief. The smell is particularly foul this monsoon. It is almost impossible to sell houses here. Most residents feel stuck," he says.
Also feeling "stuck" is Prabjit Singh, director, VXL Realtor, who is building an apartment complex, curiously called French Arcade. His company is advertising it as "the only other French-inspired habitat since Chandigarh and the first Anglo-French condominium with features such as sprawling greenery".
Singh says he decided to build a 'French Arcade' after he read and heard about the Municipal Corporation of Delhi's (MCD) plans to turn the garbage dump into a lush green hillock about three years ago.
The only greenery visible from the nearly completed French Arcade now, however, is the sparse grassy area only on the side of the mountain of trash, facing National Highway 24.
"Looks like this mountain of garbage is never going to be beautified the way I had imagined it. I have invested crores in this housing project and now I am finding it hard to sell it. The customers like the apartment, but then they see this huge dumping yard and lose interest. The East Delhi Municipal Corporation should shift this elsewhere in the larger interest of the residents," says Singh.
In fact, Singh's French Arcade is not the only attempt at creating "beautiful buildings" in the vicinity of the dumping ground.
Not very far away are five star hotels such as the Radisson Blu, malls, multiplexes and posh multi-specialty hospitals. But it is not uncommon to see people in the area moving around with their noses covered.
The situation across the highway on the Delhi side is no better.
Rashmi Sharma, a housewife who lives in Mayur Vihar Phase 3, says localities around the landfill are the most unhygienic in the city.
"Perhaps nowhere in the city are people facing the kind of health hazards that we face. There is a landfill, next to it is a fish market, a slaughter house - all sources of never-ending stench," laments Sharma.
However, rag-pickers consider this 30-year-old multi-layered mountain of trash as gold. "What I get here cannot be found at the street-side garbage dumps," said Mohammed Rais (23), who makes Rs 100 a day from his day-long scavenging here.
At the foot of the trash hill, black-soot emitting municipal trucks can be seen heaving up mounds of trash.
And amid black streams of rainwater flowing down the dump, many young rag-pickers like Rais, with bags slung over their backs and surrounded by a group of feral barking dogs, can be seen climbing up to scout for worthy waste.
Every day, about 2,200 metric tonnes (equal to the weight of around 3,400 Maruti 800 cars) of garbage is dumped here.
Meanwhile, EDMC has no plans to stop dumping at the landfill.
"Until we find an alternative site, we have no option but to continue dumping garbage here. We have beautified as much of it as possible," says YS Mann, EDMC spokesperson.
However, the EDMC plans to beautify the landfill have more to do with the process of setting up a 'waste to energy' plant here than any concerted effort to help the residents.
"The top green layer was a part of the process of scientifically extracting gas from decaying waste material.
The plant is now ready and as of now we have no plans for further greening of the landfill as we still need it for garbage disposal," says an EDMC engineer.
That's bad news for residents of the area for whom the garbage mountain will continue to be an assault on their senses.
Close Story
Personalise your news feed. Follow trending topics