Pollution watch: Odd-even scheme returns to Delhi roads from Monday, CPCB questions move
Hindustan Times, New Delhi |
HT Correspondent
Nov 10, 2017 10:35 AM IST
As Delhi air pollution levels reach hazardous levels, chief minister Arvind Kejriwal decides to implement the odd-even scheme from November 13 to November 17.
The Arvind Kejriwal government on Thursday announced the return of the odd-even plan from November 13 to 17 as air quality in the Capital worsened for the third straight day.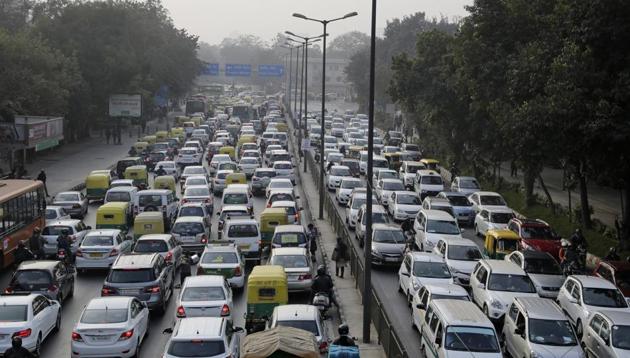 This is the third time that Delhi will try the radical road-rationing scheme during which private cars with even- and odd-numbered plates ply on alternate days.
Top officials of the Central Pollution Control Board (CPCB), however, questioned the timing of the plan, suggesting the emergency measure may not be required any longer because weather conditions would improve from Friday, clearing the toxic haze that has engulfed Delhi since Monday night.
"The air quality has started improving, and from Friday and Saturday weather conditions will be much better. If odd-even was done in the last three days, it would have been more effective," said D Saha, who heads the air quality laboratory at the CPCB.
"In winter, out of the total 28% vehicular pollution, how much is a car's contribution? How much improvement it will bring remains doubtful," Saha added.
The daily average air quality index (AQI) was a season high 486 on Thursday, rising from 478 the previous day. But there was a drop in the levels of tiny airborne PM2.5 and PM10 particulate matter, which are among the eight parameters that define AQI. For Delhi, PM2.5 and PM10 are the biggest polluters. Visibility, which had dropped to below 50m on Wednesday, improved to 200m on Thursday.
Under the odd-even plan, traffic restrictions will be in place from 8am to 8pm, the state government said. Violators will be fined Rs 2,000 on the spot.
Two-wheelers, CNG vehicles, and vehicles driven by women with a child aged below 12 years will be allowed on all days. So will be the vehicles used for medical emergencies and those driven by disabled persons.
The odd-even announcement followed other steps, such as a fourfold hike in parking fee and a ban on construction activities announced a day earlier under the Graded Response Action Plan (GRAP). But the measures were being violated openly, particularly by parking contractors who said that they were yet to receive orders from civic bodies.
The odd-even scheme was first implemented as a precautionary measure to combat pollution early last year.
A study by atmospheric scientists of Indian Institutes of Technology Delhi and Kanpur and Indian Institute of Tropical Meteorology Pune had found that 15-day road-rationing in January 2016 brought down pollution levels by just 2-3%. The Delhi government's own assessment of the next round, in April of the same year, said the drive did little to reduce pollution or congestion.