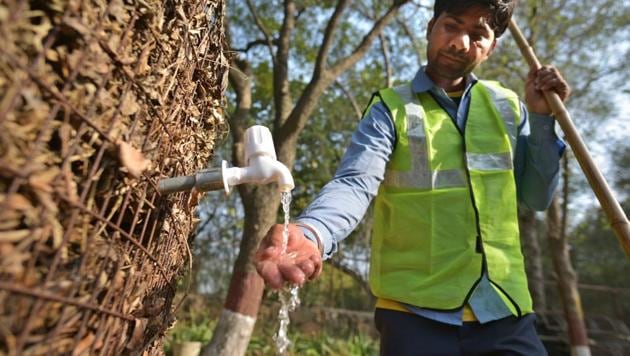 SDMC generates warm water from composting in Khel Gaon, will supply it to slums
The decision to launch the project on a bigger scale was taken a month back after the horticulture staff at the Khel Gaon nursery realised the heat coming out of the shredded garden waste could be utilised for a good cause
UPDATED ON FEB 28, 2018 04:40 PM IST
From next winter, people from economically weaker sections — including washermen, watchmen and slum-dwellers — are likely to get free hot water from South Delhi Municipal Corporation's nurseries.
The horticulture department, which had been producing hot water with the heat generated during composting, used it for day-to-day activities so far. But now, the water will be supplied to the neighbouring slum clusters.
"The methane gas generated during the composting of green waste is used to heat water. The water becomes so hot that we had even boiled potatoes in it. We have decided to scale up the process and supply hot water to the poor people living in the vicinity of our gardens from next winter," said Alok Kumar, director, horticulture.
The decision to launch the project on a bigger scale was taken a month back after the horticulture staff at the Khel Gaon nursery realised the heat coming out of the shredded garden waste could be utilised for a good cause.
"For making organic manure, we break the green waste into small pieces with the help of wood chipper machines. The shredded waste is collected in large tumblers made of iron wires. It can accommodate up to 4,000 tonnes of green waste. To allow composting, we add mixture of cow slurry and chemicals in it," said a senior official.
It takes two months to convert green waste into organic manure and in the process, smoke and heat is generated in large amounts.
"To test the appropriate use of this heat, we had placed some potatoes inside the waste. Within two hours, these were boiled nicely. The next day, we placed a 20-litre water bottle made up of iron inside the waste and to our surprise it took just five to six hours for the water to get heated."
The idea caught the attention of senior officials and they directed the staff to use the method to heat at least 200 litres of water. "The experiment showed positive results and in 10-12 hours we get supply of hot water. We are assuming the process will continue for the next two months, till the time waste is fully converted into manure," the officials said.
"Since we need water during winter for several activities, what could be the best way to get the supply without using any additional resources? If we learn to the waste appropriately, others can also benefit from the technique," Kumar said.
The SDMC has directed its staff to introduce the technique on a bigger scale at each and every nursery from next winter and put larger iron tumblers of 400-600-litre capacity. The water will be supplies to dhobi gats in the area.
Close