Several polluting factories in North Delhi may be sealed soon
Aug 13, 2018 01:50 AM IST
The North Delhi Municipal Corporation decided to initiate the sealing drive after September 29 in the light of an EPCA circular recommending that polluting units be made to use only select fuels approved and notified by the Delhi government.
The North Delhi Municipal Corporation is likely to initiate sealing drive after September 29 against factories or industries using coal and other 'dirty' fuels like pet coke and furnace oil leading to air pollution in the city.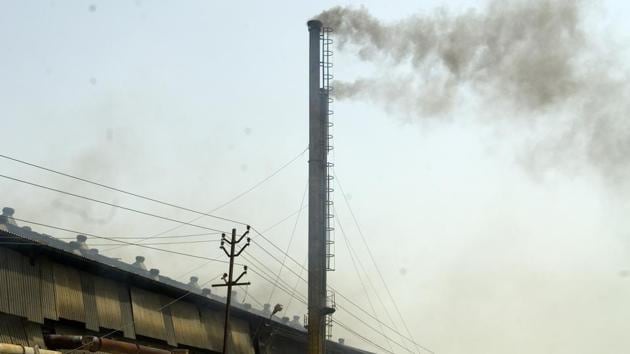 The move has come after the Environment Pollution (Prevention and Control) Authority (EPCA) issued a circular to Delhi's three civic agencies last month, asking them to direct all industries for using only list of fuels approved and notified by the Delhi government recently.
The approved fuels included Bharat Stage-VI compliant petrol and diesel with 10 parts per million sulphur, CNG, LPG, biogas, aviation fuel, energy from waste, charcoal for limited use in tandoors and ironing of clothes, and wood for cremations.
"Industries found using fuels other then those mentioned in notified list after September 29, will be liable to penalty, closure and other prosecution under the provision of Air (Prevention and Control of Pollution) Act 1981,"reads the circular.
"As directed by the EPCA, we will initiate awareness drive in industrial areas from next week and it will continue till September 28. And after that officials will start checking factories in confirming or industrial areas and take immediate action," said senior North Corporation official.
"We will submit full compliance report after interval of time to the EPCA,"said the official.
The North Corporation's awareness drive will include distributing pamphlets in industrial areas and issuing series of advertisements in newspapers. Other two civic agencies — South and East Corporations — are also in the process of conducting similar drives in their areas.
To reduce pollution-related woes in the national capital, the Delhi government issued a notification on June 29, mandating the use of only cleaner fuels and barred all toxic and polluting fuels and given 90 days time to adhere to the norms.
According to experts, this is an important step to reduce air pollution before the arrival of winter to clean up transportation, industrial and household fuels in the city.
"Controlling combustion sources is a critical step forward to reduce toxicity of emissions. During awareness drive, the civic agency should simultaneously collect data about the percentage of industries started using notified fuels after notification and made the information public. This will give real picture about the current situation with industries in city," said Sunil Dahiya, senior campaigner, Greenpeace India.
Vivek Chattopadhyay, senior programme manager at Centre for Science and Environment said, "The fuels like petcoke has high sulphur content and despite being banned in Delhi, so many small-scale industries are using it illegally. Also, all fuels mentioned as Bharat Stage-VI are available at petrol pump so it won't be difficult for industries to use them," he said.