Vertical gardens, murals, solar panels to deck up Delhi-Meerut Expressway
Hindustan Times |
Ashish Mishra
Mar 14, 2018 10:53 PM IST
The National Highways Authority of India is carrying out the beautification work on the 1.5 km stretch between Nizamuddin Bridge and Commonwealth Sports Village flyover as a part of NH-24 expansion project (Delhi-Meerut Expressway)
New Delhi: Replicas of Qutub Minar and Ashok Stambh (Ashoka Pillar), fountains, vertical gardens, solar panels, murals and greenery at Nizamuddin Bridge alongside NH-24 are all set to welcome the motorists and change their driving experience.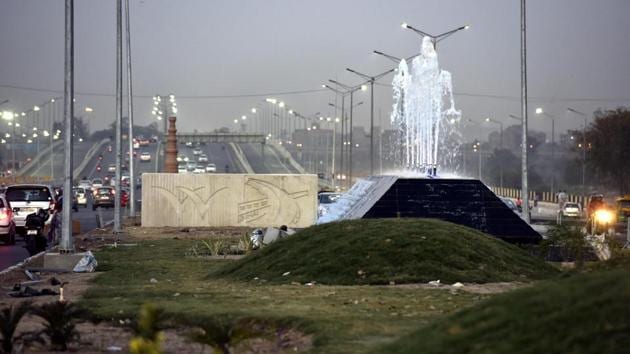 The National Highways Authority of India (NHAI) is carrying out the beautification work on the 1.5 km stretch between Nizamuddin Bridge and Commonwealth Sports Village flyover as a part of NH-24 expansion project (Delhi-Meerut Expressway).
A replica of Qutub Minar has been erected on one end of the Nizamuddin Bridge (while coming from Patparganj) while Ashoka Pillar will come up on the other side of the bridge, displaying cultural heritage of the country. Curtain fountains (in which water falls from a slab in the form of a curtain) along with normal ones are also being put near the bridge.
A flyover near Commonwealth Sports Village on NH-24 is being decorated with murals of Delhi's famous tourist destinations like Red Fort, Humayun's Tomb, Qutub Minar, India Gate and Lotus Temple.
"The work related to beautification of road is expected to be completed by March end. Landscaping will not only beautify the road and make the driving experience pleasant, it will also control dust pollution as the grass and the plants will not leave dry and open space for dust to fly," project director (Delhi-Meerut expressway) RP Singh said.
Singh added that all vacant spaces alongside the 9 km-long first phase of the expressway will also be beautified later.
Also, Nizamuddin Bridge on Yamuna has been decorated with vertical gardens and solar panels to give it a unique look.
Singh said that long grills have been put on all the four bridges (two new bridges have been constructed under the expansion project) for setting up vertical gardens and solar panels. Drip irrigation technique will be adopted for maintaining such gardens.
"We are aiming to generate 1 MW electricity from the solar panels on Yamuna bridges. The electricity generated will be supplied to the grid and will also be used for illumination of the bridge," Singh said.
Commuters appreciated the move saying that it is a positive change from the usual road infrastructure.
"Apart from the mundane dividers, the vertical greens on the bridge is a pleasing to the eyes. Even though in terms of beautification it is not much clear what is going to come up there, but I guess they are replicating the Qutub Minar which is interesting as the monument is symbolic of Delhi," said Kabir Goswami, a media professional.
Alok Kaushik, who is a banker and regularly uses the stretch to commute, said: "Driving on a beautiful, smooth and properly lit road is always a good experience. This is a good effort and being the national capital, Delhi should have such beautiful world-class roads."
The NHAI has divided the Delhi-Meerut Expressway expansion project in five phases — Nizamuddin Bridge to UP border (around 9 km), Ghaziabad to Dasana, Dasana to Meerut, Dasana to Hapur and a connector from Hapur to Meerut. The estimated cost of the project between Nizamuddin Bridge and UP border is Rs 841 crore which is likely to be completed by March end. Under phase one of the project, a total of five flyovers are coming up in the stretch. The estimated cost of the entire project is Rs 7,500 crore.