Why Ayurveda must be your first choice to prevent illness and live healthier
Delhi celebrates Ayurveda and Yoga this weekend with practitioners providing free consultation and advice on how these traditional systems can be made a part of your daily routine to manage lifestyle disorders.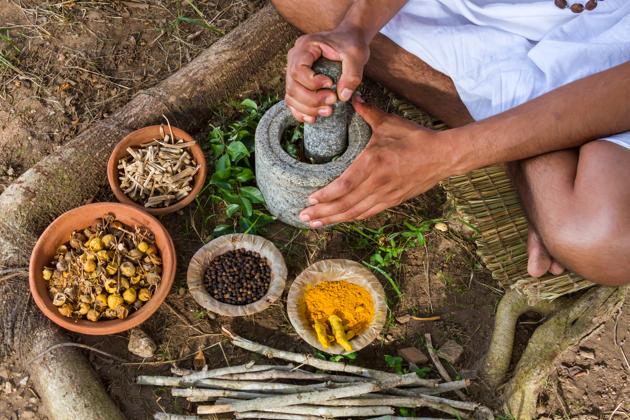 Updated on May 06, 2017 06:19 PM IST
More than 200 Ayurveda doctors from across India gathered for the Oja festival at Constitution Club in Central Delhi to provide free consultations and discuss how to make traditional systems can be made a part of your daily routine to manage lifestyle disorders.
"In cases of infectious diseases and acute problems or emergency cases, there is no doubt about it that allopathy is the best. But, when it comes to lifestyle diseases, ayurveda can actually help in prevention and management," said Dr Abhimanyu Kumar, director of the All India Institute of Ayurveda.
Is Ayurveda effective?
"There are three things that Ayurveda focuses on — prevention of lifestyle diseases in an at-risk person, maintaining good health in the healthy people and managing the disease in patients with chronic illnesses," said Dr Kumar.
There are certain illnesses like diabetes and other metabolic disorders, allergies, infertility, skin disorders, eye, ENT and dental disorders in which Ayurveda can be of great help, he said. "We have specific clinics to deal with such illnesses and already have around 1,000 patients visiting our Out-Patient Department daily," said Dr Kumar.
Is there research to confirm it works? "Yes, there is. There is so much material that we have out there. People do not know about it because till now, no effort has been made to consolidate research. In fact, we are going to start a journal to report case studies from the grassroots level. Right now, these get completely left out," he said.
Ayurveda can also improve cancer care. "I am not suggesting that ayurveda can cure cancer, no one can say that. But it definitely helps in holistically managing the disease and mitigating the pain, depression and other symptoms that come with it," he said.
Growing importance will stop crosspathy
"People want to go to Ayurveda practitioners, but the problem is that they are not sure whether the doctor is reliable or not. Add to that the fact that several ayurveda doctors prescribe allopathic medicines. Why would someone go to an ayurveda doctor to get allopathic medicines," said Ram N Kumar, one of the organisers of the festival and co-founder of NirogStreet.com.
NirogStreet.com helps people find a genuine Ayurvedic doctor near them. "When we collaborate with ayurveda doctors, we ensure that they are good in their practice and they prescribe only Ayurvedic medicines. This helps people in finding the right doctor," said Kumar.
According to him, several doctors have stopped crosspathy after joining NirogStreet, which promotes Ayurveda as the first call of treatment.
Get a free consultation
The festival, which was inaugurated on Saturday, offers free consultation for all between 10am and 8pm on Saturday and Sunday. There are around 10 consultation booths where ayurveda doctors from Medanta and AIIMS, among others, will provide consultation to people.
Along with consultation, people will also be able to attend public lectures on topics like pain management, role of ayurveda in diabetes treatment, skin diseases and neurological disorders. There will also be yoga sessions.
Close Story
Personalise your news feed. Follow trending topics