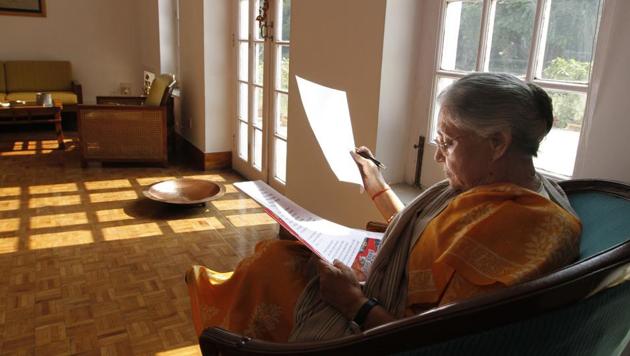 Why Congress lost Delhi, Sheila Dikshit reveals in autobiography
Sheila Dikshit in her new autobiography reveals how Delhiites support to Aam Aadmi Party was one of the key factors that led to the Congress being voted out in Delhi elections
UPDATED ON JAN 20, 2018 10:55 AM IST
The support the Aam Aadmi Party received from first-time voters, who took Delhi's infrastructure and growth for granted, was one of the key factors that led to the Congress being voted out in 2013, former chief minister Sheila Dikshit has said in her soon-to-be-released autobiography.
The young people could not acknowledge the changes that her government had brought, unaware of what Delhi was like before she took over, she writes in Citizen Delhi: My Times, My Life, which will be released at the Jaipur Literature Festival on January 27.
"A considerable chunk of voters, who were casting their ballot for the first time, had not seen the Delhi of 15 years ago. To them a Delhi with regular power, flyovers and Metro rail, as well as several new universities, was their 'natural right' and therefore taken for granted. They could not be expected to feel ecstatic about it," says the 79-year-old who ruled the state from 1998 to 2013.
The Congress did not take Arvind Kejriwal's foray into politics seriously enough and his ability to tap into the sentiments of the voters, she confesses. "I myself was defeated by a margin of over 25,000 votes, losing the prestigious New Delhi seat to Arvind Kejriwal of AAP, a party that many of us had underestimated.
Dikshit, however, doesn't dwell upon the alleged corruption linked with the 2010 Commonwealth Games but blames the Shunglu Committee for ignoring the government's response to a lot of the allegations.
Even as she prepared to bear the impact of UPA2 losing favour with the electorate, she had started looking for a "bigger canvas" (a role at the Centre), she writes. Although she doesn't say as much in the book, there was talk at the time that Dikshit could be made the Union home minister. But power minister Sushil Kumar Shinde was given the home ministry berth in 2012 -"the fact that his elevation, which was perceived as a reward, came on the heels of a blackout in large parts of India in the second half of 2012, further dented the image of the Congress," she says.
Sheila reveals that she was going to resign even before her term ended, but that the December 16 gang rape strengthened her resolve to stay on. "As I slowly recovered my strength and prepared to inform the high command of my decision to step down, Delhi, and India, was shaken to its core on 16 December." Sheila says she decided to write the book when she was the governor of Kerala between March and August 2014.
Close