100 days since note ban, cash is still hard to find in Delhi
Demonetisation still affecting cash flow, ATMs running dry and banks say customers are confused about cash withdrawal limit, surcharge on digital transactions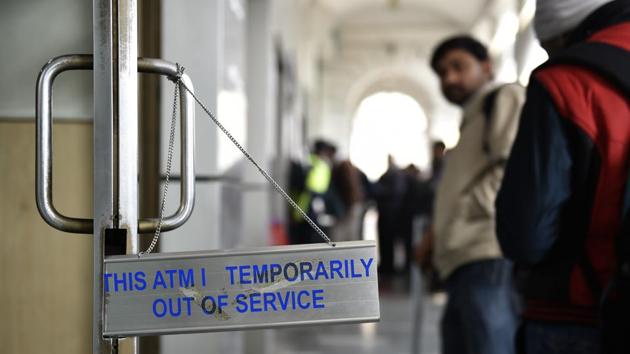 Updated on Feb 15, 2017 11:48 PM IST
While announcing the demonetisation drive on November 8 last year, Prime Minister Narendra Modi had sought 50 days promising that things would move towards normalcy during this period. However, it has been 100 days and things are far from normal.
The authorities claim that all the banks have been recalibrated to dispense the new ₹500 and ₹2,000 notes but several ATMs in Delhi remain dry for most part of the day as they are not being refilled regularly.
Though the queues have disappeared from outside banks but seven to eight people can still be seen outside ATMs in many parts of Delhi. For instance, only three out of 10 ATMs were working in east Delhi's New Ashok Nagar on Wednesday. Similarly, in Saket, more than 70% of the ATMs were out of cash.
Ashish Parashar, who was standing outside an HDFC bank ATM in Saket, said that the cash situation had normalised after mid-January and around 70% of the ATMs were working. But in past couple of weeks, the situation has worsened.
Sources say that the problem might have escalated since February as demand for cash has surged in the Capital and NCR as a substantial pile was getting directed towards the Uttar Pradesh state elections.
Bank officials said that ATMs that are under banks' direct control are being refilled regularly but others are not replenished on time.
There are two kinds of ATMs in Delhi — those under the direct supervision of the banks, and others that are outsourced to third party for refilling.
Most of the ATMs in the city are outsourced to third party.
Though huge crowds have vanished, but banks are seeing a new set of customers who are confused over surcharge, withdrawal limit, and money being deducted but not credited to merchant account.
Pankaj Bhambani , a resident of Janakpuri, said, "I got my car refuelled for ₹1,500 recently. The credit card was swiped for ₹1,500, but the bank statement showed a deduction of ₹1,543.11. So I ended up paying an additional amount of R 43.11."
"I don't mind paying extra if the same has been communicated or duly advertised. On the one hand, the government talks of incentives on digital transactions and on the other they are deducting money for payments via cards," he added.
There are people who would not even be aware that they are paying extra as they do not check their statement meticulously, he added. A senior official from the petrol association said that as per rules people have to pay surcharge if they are getting fuel refilled through credit card.
A State Bank of India official in Central Delhi said that they were getting queries from people saying that money was deducted from their account but the same was not credited to the merchant's account. He said this is happening because online transactions have increased manifold but the central server of the banks has not been updated to handle so much pressure.
High demand for cheque books and POS machines
Most banks said that there has been a jump in demand for POS machines and cheque books. A banker with the Indian Bank in East Delhi said that he now gets at least 20 requests from businessmen for the machines in a week— far more that the requests received before demonetisation.
Change in lifestyle
Delhi has seen a big change in lifestyle with most people switching to internet banking. A spokesperson of Axis Bank said the bank has been adding 1,500 small merchants (customers) on digital platform every day over the past one month. This is three times more than the numbers before demonetisation, he added.
Shubham Gupta, a resident of Mehrauli, said, "It was easier for people in Delhi to switch to plastic money. Even then things have not normalised. But the situation is worse than expected for people living in villages and small towns."
Close Story