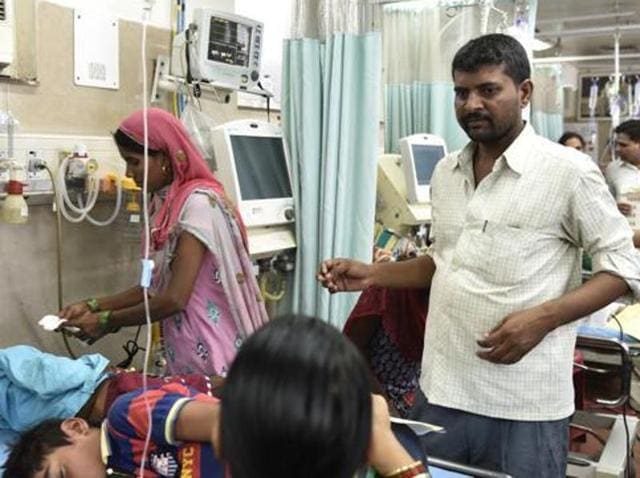 2 more die of chikungunya in Delhi, three deaths in 24 hours
A Delhi hospital reported two chikungunya patient deaths on Tuesday, taking the toll to three in the national capital region this year, the biggest outbreak of the mosquito-borne viral disease in the city
UPDATED ON SEP 13, 2016 12:49 PM IST
A Delhi hospital reported two chikungunya patient deaths on Tuesday, taking the toll to three in the national capital region this year, the biggest outbreak of the mosquito-borne viral disease in the city.
All three deaths were of men between the ages of 61 and 65 years of multi-organ failure within 24 hours of being admitted to Delhi's Sir Ganga Ram Hospital with severe complications.
Among those who died was Delhi-resident Uday Shankar Prasad, 61. The other two, Ashok Chauhan, 62, was from Aligarh and Ramendra Pandey, 65, who died on Monday morning, was from Ghaziabad.
Since two of the men who died were not Delhi residents, their death will be added to their respective states' tally and not be counted as a Delhi death.
"Chikungunya can cause complications in older people and those with existing conditions, such as diabetes, hypertension etc, leading to sepsis and multi-organ failure," said Dr SP Byotra, head of the department of medicine at Sir Ganga Ram Hospital.
Chikungunya is a viral disease spread to humans by infected mosquitoes. It causes fever and severe joint pain that can last for days to weeks but rarely kills. Other symptoms include muscle pain, headache, nausea, fatigue and rash.
Delhi authorities also reported 1,057 cases of the viral disease this year with hospitals overflowing with patients complaining of fever and joint pains.
Another 1,158 cases of the mosquito-borne Dengue have been reported from the national capital region with four fatalities.
In healthy people, it can be managed at home but causes complications in people over 65 and those with existing disorders such as poorly-controlled diabetes and heart disease.
Delhi is reeling under an onslaught of viral, bacterial and parasitic infections, most of which begin with fever, headache and body pains, confining a person to bed for a week.
Across India, 12,000 cases of chikungunya and 27,000 cases of dengue have been reported this year with Odisha, West Bengal and Kerala among the worst affected.
Dengue and chikungunya cases go up during and just after the rainy season that normal lasts from June to September because Aedes aegypti, the mosquito that spreads both infections, breeds in fresh rainwater.
Close