AAP-Jung row: HC says anti-graft branch must take orders from govt
City's anti-corruption branch must take its orders from the Arvind Kejriwal-led administration and not the Centre, says court.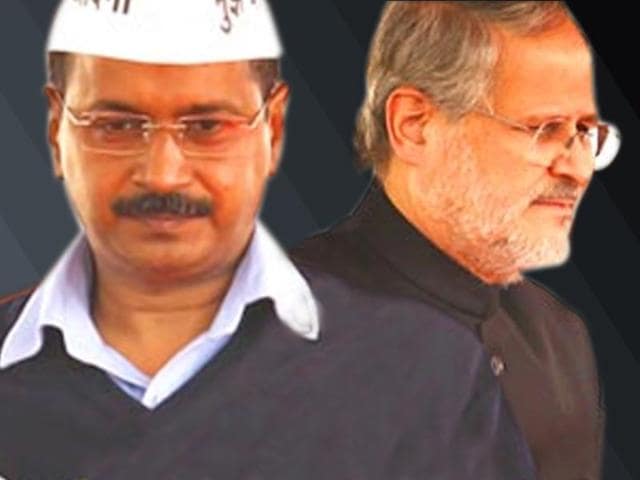 Updated on May 26, 2015 02:36 AM IST
The AAP government in the Capital that is caught in a bitter power tussle with the lieutenant governor received a shot in the arm on Monday when the Delhi high court ruled the city's anti-corruption branch had the authority to investigate central government officers.

Justice Vipin Sanghi also said in issues dealing with criminal law and criminal procedure, the L-G was "bound to act upon the aid and advice of the council of ministers" that is directly elected by the citizens of Delhi.
The turf war between chief minister Arvind Kejriwal and L-G Najeeb Jung stems from Delhi's complicated position as a union territory functioning as the Capital, with the state government having no power over several important departments and agencies that function under the
lieutenant governor, who reports to the Centre.
A jubilant Kejriwal called the verdict "a huge embarrassment" for the Narendra Modi government that last week said its officers could not be investigated by the ACB.
"Congrats. Del HC strikes down centre's effort to weaken Delhi's ACB. Del HC- Centre has no jurisdiction to pass notification on ACB's powers," the chief minister tweeted. "Today's HC judgement a huge embarrassment for central govt. HC also said that the latest 21st May MHA notification is 'suspect'."
Apart from restraining the ACB, a union home ministry notification issued on Friday also stripped Kejriwal of his right to be consulted on issues concerning police and public order. It, however, left it to the L-G's discretion to confer with the CM on services that would include transfer and appointments of officers.
The judge said the mandate of the people "must" be respected by the L-G if there was no other "constitutional or legal fetter" and the new notification "is also suspect", but he did not strike it down, saying the issue could not be determined without hearing the central government.
Kejriwal said the judgment strengthened his government's fight against corruption and, at an event to mark 100 days of his administration, he called it a major victory for the people of Delhi.
"The home ministry was not a party in this case. The MHA will obtain a copy of the judgment and take appropriate legal recourse in the matter," a union home ministry spokesperson said, as top government sources revealed the Centre was planning to approach the Supreme Court against the ruling.
The court verdict came while it dismissed the bail application of a head constable who was arrested by the ACB in a corruption case.
The Kejriwal government swept to power last year on an anti-corruption plank and maintained that it had jurisdiction over the ACB.
Close Story
Personalise your news feed. Follow trending topics