After Haryana, peaceful protests for Jat reservation spread in Delhi
The Jat community has been demanding recognition as OBCs. The community also wants the government to take back all the cases registered against protesters from the community during the agitation in Haryana held in February 2016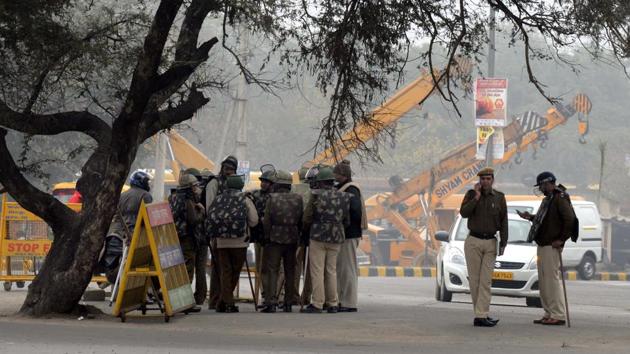 Updated on Apr 25, 2018 07:36 PM IST
The agitation for quota reservation by Jats, which was confined to Haryana so far, has started spreading to parts of Delhi.
On Tuesday, the Jat community organised a peaceful protest in Najafgarh area of southwest Delhi. Hundreds of people gathered outside the sub-divisional magistrate's office in Najafgarh, where they demanded inclusion of their caste in the Other Backward Class (OBC) category by the Centre.
"The Centre does not recognize the Jats as OBCs. Most states (except for Delhi, Rajasthan, Madhya Pradsesh, Uttar Pradesh and Uttarakhand) too don't recognize Jats as OBCs. We have been demanding the government to fix our reservation," said Yashpal Malik, president of the All India Jat Arakshan Sangharsh Samiti.
The agitation comes a few days before Jat dominated regions in western Uttar Pradesh —comprising 140 od the total 403 seats, going to polls on February 11 and February 15. The agitation is significant, considering the Jats have giving a call to defeat BJP in UP polls accusing the party of harming interest of the majority farming community. In 2014, the BJP had a clean sweep in western UP.
The Jat community has also been demanding the government to take back all the cases registered against protesters from the community during the agitation in Haryana held in February 2016. "These youths were held responsible for crimes, which were committed by members of other communities, or for crimes that were never committed. The government assured to fulfill. They later retracted their promise," said Malik.
The Jat community is also demanding compensation for families of 30 people who lost their lives in the 2016 agitation and government jobs for at least one member of such families.
On February 3, the community had organised a demonstration outside the deputy commissioner's (Delhi government) office in Narela followed by another demonstration in Mahipalpur on February 5. These protests concluded with the handing of a copy of a memorandum of demands to some senior government officials.
"All these demonstrations will be peaceful, just like hose in Haryana so far. We will not block any roads or violate any rules," assured Malik.
According to Jat leaders, the protest will continue throughout the month of February.
On February 9, Malik said, the Jats will protest in Mundka, in Bawana on February 11, and in east Delhi on February 12. Demonstrations will also be staged in Dwarka on February 14, in Rohini on February 16, in Burari on February 18 and in Bijwasan on February 20.
However, the protesters have no plan to enter Central Delhi. "We have no plan to agitate outside Jantar Mantar or at Ramlila Maidan because it will not serve our purpose. We are focusing on broader areas so that, if required, we will get the support to our community to block the borders," said Malik. The Jat leaders claim to get the support of people from other communities as well.
Close Story