Ammonia in Yamuna five times higher than normal
Hindustan Times |
, New Delhi
Mallica Joshi
Jan 28, 2016 09:03 AM IST
In August last year, Union water resources minister Uma Bharti and Delhi chief minister Arvind Kejriwal had agreed to set-up a special purpose vehicle for cleaning up and rejuvenating the Yamuna
In August last year, Union water resources minister Uma Bharti and Delhi chief minister Arvind Kejriwal had agreed to set-up a special purpose vehicle for cleaning up and rejuvenating the Yamuna. A month later that year, the Delhi Jal Board chairperson had said: "I will bathe in a clean Yamuna 36 months from now."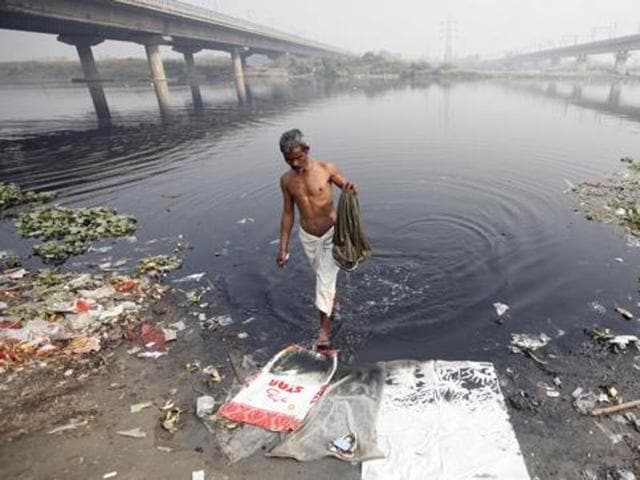 Three months later, far from being any cleaner, the extremely high levels of pollution — especially ammonia — in the Yamuna has forced water treatment plants in Delhi to shut down operations.
The level of ammonia in Yamuna was five times above the acceptable limit at 2.5 parts per million between Wednesday and Saturday. The acceptable limit is 0.5 parts per million.
The primary reason behind the recurrent problem is the failure to ensure ecological flow in the river.
Ecological flow — which is described as the minimum amount of water that should flow throughout the river at all times to sustain underwater and estuarine ecosystems and human livelihoods — must be maintained at 10 cumecs (cubic meter per second) at all times. This was finalised in a memorandum of understanding signed between the governments of Haryana and Delhi in 1994.
"Haryana has interpreted this MoU erroneously. Ten cubic meters per second of flow means that this should be the flow in the river at any given time. This means that even if the state has to release 20 cumecs of water to maintain that flow, it should do that. Haryana, however, does not maintain the flow," said a senior Delhi Jal Board official.
Shutting of water treatment plants due to the accumulation of pollutants – particularly ammonia – has become very common over the past three- four years as the minimum river flow cannot be maintained.
"There is barely any release of water in the river. As a result the bed is running dry and pollutants are getting deposited. After this, unless ecological flow is maintained, the water will become tough to clean," the official said.
The problem, experts however say, is with industrial units operating in Panipat and Sonepat.
"The pollution levels in water increase in winters. The pollution from industrial units in Haryana becomes apparent during this time. A stringent check on these units along with maintaining the river's ecological flow is the need of the hour. Leave the river alone. It will clean itself," said Yamuna activist Manoj Misra.
According to Delhi water minister Kapil Mishra, talks between the state government and the Centre is in progress. "I have asked DJB to prepare a plan to ensure that even if the pollution level in the river goes up, the water supply to the city is not affected," Mishra said.