Delhi air pollution: Secondary pollutants bigger threat, warns EPCA
Mar 20, 2017 11:08 AM IST
Gaseous pollutants such as SO2 and NO2 undergo chemical reaction and form more dangerous pollutants, warned the Supreme Court appointed Environment Pollution Control Authority (EPCA). Delhi had been named the most polluted city in the world by WHO.
New Delhi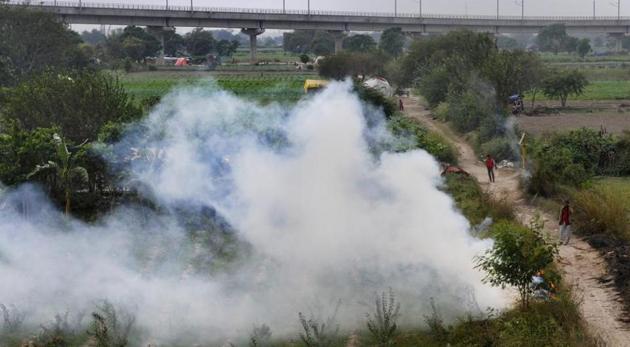 The Environment Pollution Control Authority (EPCA) has warned in its draft comprehensive action plan that secondary particulate matter, particles that are born out of the primary source air pollutants, pose as an additional threat to Delhi's air.
"A study by IIT Kanpur has revealed that primary pollutants like NO2 and SO2 undergo complex reactions in the atmosphere and form secondary particulate matter such as sulphates, nitrates and organic aerosols which are equally deadly," said an EPCA.
Less than 1 micron in size (PM 1) these particles can go deep inside our lungs and trigger lung and heart problems. Secondary particulates form nearly 25% of Delhi's PM 2.5 load.
Read: EPCA plans to use satellite imagery to identify pollution hotspots in Delhi-NCR
The Global Burden of Diseases estimates for 2017 have shown that early deaths related to PM 2.5 in India are the second highest in the world.
"These particles could delay the rains or even disperse the rains depriving the city of showers," said Abhijit Chatterjee, atmospheric scientist of Bose Institute in Kolkata.
While primary particles such as SO2 and NO2 are directly released into the air from vehicles and industries, secondary particles such as sulphates, nitrates and organic aerosols form in the air from these primary particles. They are equally harmful.
"Triggers such as high solar radiation and high relative humidity help primary particles to graduate into secondary ones," said Sachchida Nand Tripathi, coordinator of the Centre for Environmental Science and Engineering in IIT Kanpur.
EPCA's draft action plan has suggested stronger control over primary sources such as traffic, industry and open burning to arrest these particulates.
"Till date we were speaking about primary pollutants. EPCA's action plan has highlighted this additional problem. We need stronger actions to arrest both," said Anumita Roychowdhury, executive director, Centre for Science and Environment in Delhi.