Delhi to Alwar in 104 minutes: Rapid rail proposal moves to approval stage
Updated on Apr 22, 2017 11:35 PM IST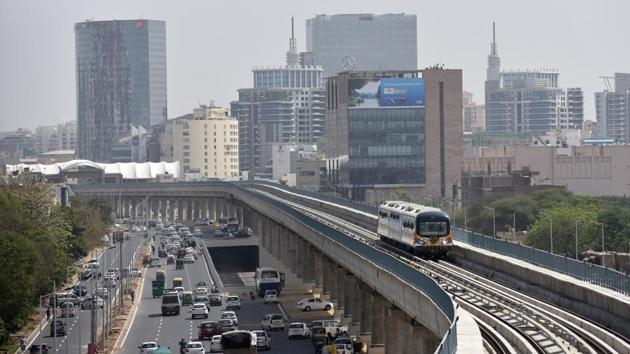 The proposal to build a high-speed rail system between Delhi and Alwar has moved to the approval stage.
In the stakeholder's workshop on Saturday organised by NCR Transport Corporation (NCRTC) and NCR Planning Board, its managing director VK Singh said that NCRTC is targeting approval for the detailed project report (DPR) by the board in the next two months.
Approval of Delhi, Haryana and Rajasthan governments will take another three months so the project work on the ground may start within one year.
The length of the corridor is 180.50 km, 124 km of which will be elevated and 56 km will be underground. There will be 19 stations the first 9 stations of which will be underground and the rest elevated. The stations will have universal access and will have platform screen doors for passengers' safety.
Design speed of the rail corridor is 180 kmph while operational speed is 160 kmph and average speed is 100 kmph. On the line of Metro, Regional Rapid Transit System (RRTS) trains will have comfortable air-conditioned cars having business and economy class. This train will be available every 5 to 10 minutes and will be safe.
With a six car combination to begin with, each train could carry about 1,154 passengers. There will be no land acquisition issues since the entire corridor is underground and elevated.
"Due to high modal shift RRTS will help in significant reduction of pollution and congestion on the roads of NCR and Delhi. The system will use renewable sources of energy extensively. Once operational, RRTS trains will be the fastest, the most comfortable and the safest mode of travel in NCR," Singh said.
According to the plan the distance between Delhi and Alwar will be covered in just 104 minutes, Delhi-Mahipalpur (Aero city) in 12 minutes, Delhi-Manesar in 30 minutes and Delhi-Rewari in 57 minutes. The total project is planned to be completed in about six years after approval of the DPR. The cost of the project on the basis of year 2016 is about Rs37,539 crore. The project will be funded by Centre, concerned state governments and funding agencies.
NCRTC is a joint venture of the Centre, Haryana, Delhi, Uttar Pradesh and Rajasthan and is executing the prioritized three RRTS corridors — Delhi-Alwar, Delhi-Meerut and Delhi-Panipat. Eight such corridors have been identified under the Integrated Transportation Plan 2032 prepared by the National Capital Region Planning Board (NCRPB).
The other RRTS corridors are — Delhi-Baraut, Delhi-Hapur, Delhi-Khurja, Delhi-Palwal and Delhi-Rohtak.
Personalise your news feed. Follow trending topics