Delhi Budget 2017 announcements: Boost for education, health
Hindustan Times |
, New Delhi
HT Correspondent
Mar 09, 2017 11:59 AM IST
Delhi finance minister Manish Sisodia presented Arvind Kejriwal-led AAP government's third budget in the Delhi Assembly on Wednesday. Sisodia presented an outcome budget with health and education getting the maximum allocations. Here are some highlights
Delhi finance minister Manish Sisodia presented the budget for 2016-17 in the Delhi Assembly on Wednesday.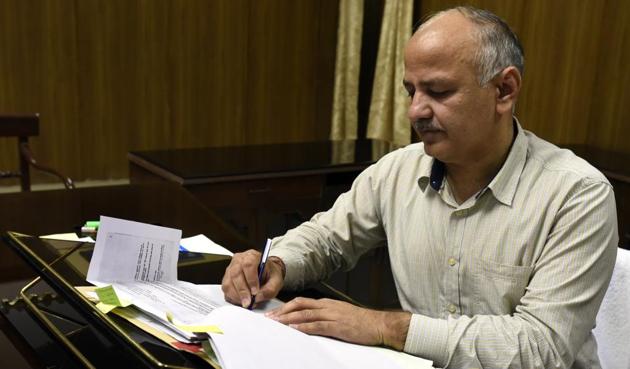 Here are the highlights of the AAP government's budget this year:
OUTCOME BUDGET
•This year the Delhi budget has been planned outside of the traditional categories of plan and non-plan.
•"We have created the budget outside the tradition of using planned and non planned expenditure, as common man may not be able to understand this," says Sisodia.
•He said this was the first outcome budget of Delhi and that there will be quarterly monitoring of the outcome to ensure performance.
•He said the outcome budget will be like a contractual agreement between the government and its departments.
TOTAL BUDGET
Total budget outlay for 2017-18 pegged at Rs 48,000 crore. Last year this was Rs 46,600 crore.
NO NEW TAXES
No new tax proposals this year.
CHEAPER SANITARY NAPKINS
Tax on sanitary napkins costing above Rs 20 to be reduced from 12.5% to 5%
CHEAPER AIR FUEL
•Tax on air turbine fuel to be reduced to 1% from 25%
•Sisodia says tax reduction on ATF is aimed to improve connectivity with northeast areas
EDUCATION
•Education gets 24% of the total outlay in Wednesday's budget with allocation increased from Rs 10,690 crore to Rs 11,300 crore.
•10,000 new classrooms
•400 libraries
•Tablets to teachers to enable them to track students' progress
•10 early childhood learning centres on a pilot basis
•Nursery classes in 156 government schools
•Ambedkar University, Delhi will get four extension campuses by 2022
HEALTH
•Rs 5,736 crore allocated for health care, a marginal increase of Rs 517 crore from last year's Rs 5,259 crore
•The number of mohalla clinics to be increased. Currently, 110 such clinics are functional across Delhi
•By the end of this year, there will be 150 mohalla clinics and 150 polyclinics by the end of 2018, said Sisodia
•Number of hospital beds to be increased to 20,000 by adding seven hospitals and remodelling 10 existing hospitals
•Rs 15 crore allocated for medical tests
ROADS AND TRANSPORT
•Rs 5,506 crore allocated for public transport
•Rs 100 crore for development of bus terminals and depots
•Consultants appointed for elevated corridors proposed last year. These corridors include Barapullah Nallah phase-II from Jawahar Lal Nehru Stadium to INA (Aurobindo Marg), Barapullah Nallah phase-III from Sarai Kale Khan to Mayur Vihar, two elevated BRT corridors — one along Anand Vihar Terminal to Peeragarhi (East – West Corridor – 29 Kms) and the other from Wazirabad to Airport (North South Corridor – 24 Kms)
WATER
•Rs 2,107.9 crore allocated for water sector
•Rs 2,108 crore allocated for water supply and Yamuna cleaning
HOUSING AND SLUMS
•Rs 3,113 crore allocated for housing and slums, an increase of 21% over last year
•More than 12 lakh zero water bills last year
•Both and rural and urban villages to be included in Delhi village board
•Rs 20 crore allocated for development of Chatth ghats in Delhi
DEMONETISATION
•Despite note ban, Delhi's (Gross State Domestic Product) GSDP likely to increase, said Sisodia
•Sisodia attacked demonetisation in the Assembly.
•Decision of note ban seems to be taken by spinning the coin. Demonetisation affected the city badly, Sisodia said.
"Exciting news! Hindustan Times is now on WhatsApp Channels
Subscribe today by clicking the link and stay updated with the latest news!"
Click here!