Delhi traffic police run special campaign to stop polluting trucks
Jul 04, 2016 03:23 PM IST
Trucks and heavy vehicles flouting traffic rules entering the city are facing a police crack down. In the last one week, police have issued over 500 challans to drivers of heavy vehicles for pollution, overloading and driving without papers
Trucks and heavy vehicles flouting traffic rules entering the city are facing a police crack down. In the last one week, police have issued over 500 challans to drivers of heavy vehicles for pollution, overloading and driving without papers.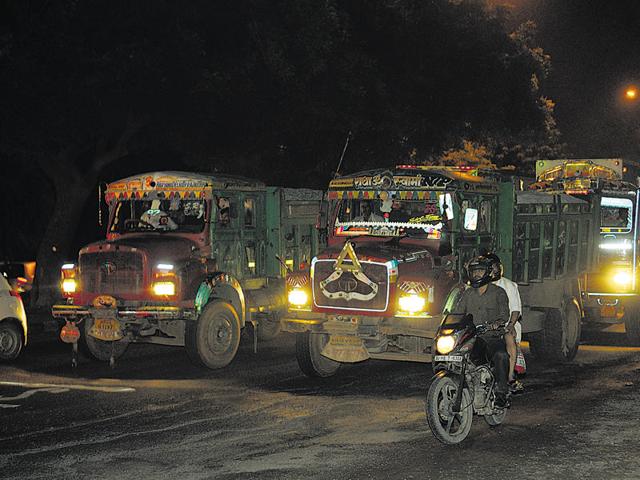 Between June 26 and July 1, Delhi Traffic Police issued 543 fines at the city's entry points. The special drive was carried out between 10pm and 4am, when maximum trucks enter the city.
"The arterial roads of the city are extremely dangerous mainly because of the entry of trucks. Many drivers drive rash to meet their consignment deadline. Some vehicles also do not meet the pollution norms and overload the trucks so much that it increases the risk of accidents," said a senior traffic official.
Around 200 traffic officials are being deployed at the borders for the campaign. The drive will continue throughout the month.
"We will take action not only against the drivers but also the owner of the truck," he said.
Of the 543 fines, 125 were issued for overloading, 100 for polluting, 67 for driving with proper licence and other documents and rest for other offences. In many vehicles where the load had exceeded way over the prescribed weight limits, the consignment was offloaded, officials said.
Read: 10-yr-old among two killed in road accidents across Delhi
"Some trucks were found to be carrying almost 70% to 80% more than the approved weight. In such cases, the vehicles were stopped at the borders and offloaded. The licences of drivers were also confiscated," the officials said.
Every year, heavy vehicles contribute at least 30% of the total fatal accidents in Delhi. Last year, these vehicles became the reason behind 98 fatal accidents.
On June 25, an overloaded truck hit a divider and overturned in outer Delhi's Alipur, killing three people.
SP Singh, senior fellow at Indian Foundation of Road Research and Training (IFRRT) said that unless in such cases drivers are also slapped with charges of rash and negligent driving and culpable homicide, the fear of law will not sink in the minds of transporters.
"The law needs to be stricter for overloading as it is not just a bad driving practice but is also dangerous for other road users," Singh said.