Don't put your goldfish in a bowl, it's cruel, say experts
Hindustan Times |
, New Delhi
Mallica Joshi
Aug 03, 2016 03:56 PM IST
Keeping fish in tiny bowls spells certain death for them, say animal welfare experts
Keeping fish in tiny bowls spells certain death for them, say animal welfare experts.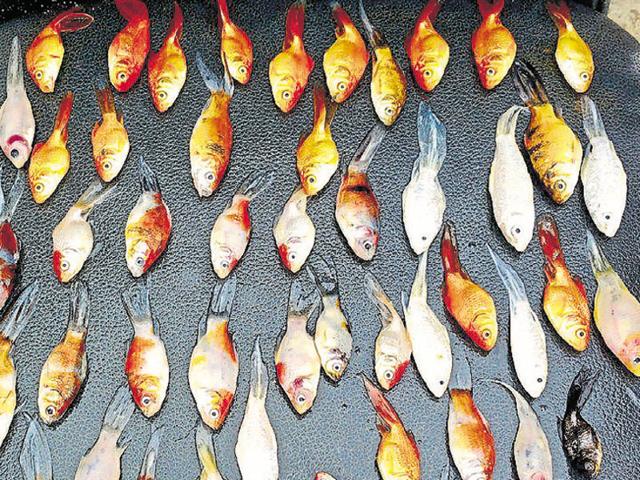 What is an extremely popular trend is torture for the fish and the problem has only got worse, they say.
"Earlier people were selling fish in small pet shops but since these fish are very inexpensive, you can now see them on sale in small polyethene bags on the road. A new trend is of putting fish in coloured water. The water is coloured using food dye or other chemicals," said Abhinav Srihan, member of the Delhi State Advisory Board for Animal Welfare.
According to experts, keeping fish in bowls is inhuman for several reasons. Low surface to air ratio, no filters to clean the water and cramped space for the fish are some.
Many cities across the world have banned fishbowls altogether. This includes Rome and Monza in Italy, most cities in Sweden and Mexico. In Switzerland, selling a single goldfish is illegal as they are social creatures that need companionship.
Srihan, who also runs the animal rescue home, Fauna Police, says he rescues hundreds of fish every week.
"The problem is large-scale because a fish costs very little in the wholesale market. One goldfish – among the most popular fish in Delhi because of its colour and size – costs anywhere between R 15 and R 20 in the wholesale market. On the roadside, these are sold in polybags for R 50. Under the Prevention of Cruelty to Animals Act, it is illegal to sell animals on the roadside. Selling animals, fish and birds in a hostile environment, such as coloured water or a bowl, is also punishable. It is a pity that people don't know this and there is no implementation of rules," Srihan said.
In bowls, goldfish usually survive for a few days or a month. If an owner changes water regularly and cleans the bowl dedicatedly, the fish might survive for two to three months. In a pond, however, goldfish sometimes live for up to 20 years.
Animal welfare organisations such as PETA recommend a fish tank with a functional filter, plastic or real plants and decoration to keep fish.
According to the organisation, there needs to be at least 24 square inches of water for every 1 inch of fish to ensure well being. Fishbowl does not meet these standards.