Drunk woman slaps cop near Vasant Vihar police station
May 16, 2016 10:27 AM IST
The drunk Nepalese woman slapped a woman constable at Vasant Vihar police station.
A young woman created a ruckus outside Vasant Vihar police station in the Capital and slapped a woman police constable who came to pacify her on Sunday.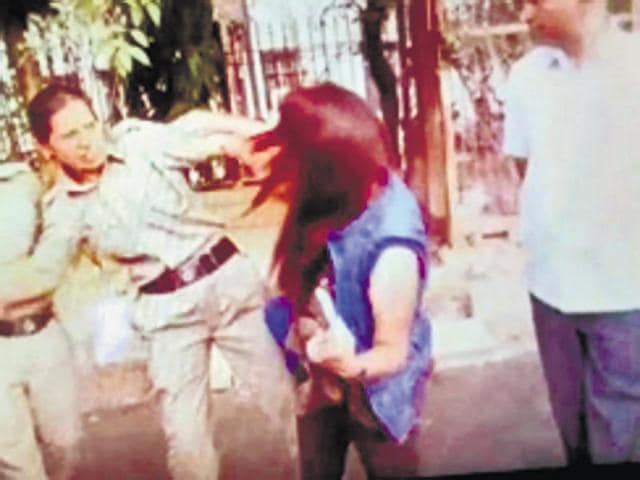 The woman, a 28-year-old Nepalese national, was reportedly drunk at the time of the incident.
The incident took place in the morning, when an auto driver informed the police control room about a woman who was troubling him.
The auto driver told police that she had refused to leave his auto rickshaw and threatened to beat him.
Police said that at around 9 am, the woman boarded an autorickshaw from Munirka. The auto driver alleged that as soon as she got in, she began abusing him.
Police said the driver asked her to stop but when she refused, he drove his vehicle to the nearby Vasant Vihar police station.
At the same time, he also informed the police control room.
A video shot by a passerby near the police station showed the woman shouting in front of the camera.
She is then seen slapping a woman constable twice. Few seconds later she is seen accusing that another cop had hit her first.
Police said the woman was taken to Safdarjung Hospital for medical examination where doctors confirmed alcohol in her blood.
Police registered an FIR against her. She was placed under arrest and later released on bail.
The woman who lives in a rented flat in Munirka alleged that the auto driver tried to snatch her cell phone.